DISTRICT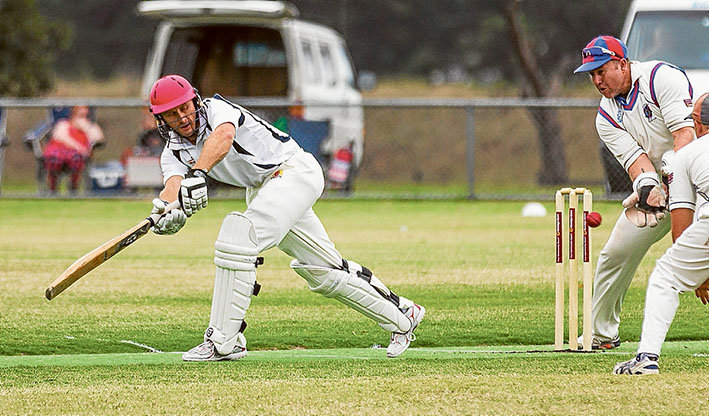 PEARCEDALE will head into the third day of the MPCA District grand final with their noses well and truly in front after coach Chris Dew scored an unbeaten 159 against Flinders.
After more than 140 overs in the opening two days, Pearcedale is in the box seat after bowling 40 overs to Flinders on the second day and having them 2/37 overnight.
Not only did Dew score 159, when he gave only two small chances, he was almost the man to take Flinders' first two wickets.
Dew and Shane Maggs put Pearcedale into a wonderful position for victory after the opening day.
The Panthers won the all-important grand final toss and went into bat.
However, Matt Cousland was sent packing for a duck and Mitch Andrew followed three runs later and Flinders had the opposition on the ropes at 2/3.
However, Brad Trotter (24) was joined at the crease by Dew and together they were able get the Panthers going again.
With the score at 3/51, Maggs joined Dew at the crease. They were able to take the score to 4/146 before Maggs fell victim to Dwayne Field in the final over of the first day.
Chris Dew remained at the crease, not out on 82.
The Sharks used seven bowlers on the first day, Field having the biggest impact with 2/16, despite bowling just seven overs. Shane Beggs had 1/17 off 10 after the opening day. Field finished with four wickets.
With the likes of Anthony McLaughlin at the crease and Max Blackburn, Shayne Gillings and Kaine Smith to come on day two, the Panthers would have been confident of setting a big target.
Pearcedale president Andrew Williams said the knock of his skipper was "magnificent".
"What a time to get it. Our backs were to the wall and Chris brought his best.
"It was a worry when he came to the crease at 2/3 but he took charge and at that stage it could no have been in better hands.
Flinders coach Clint Munday said Dew was superb.
"We were in a good position early but Chris came out and played one of the best innings you will see. We had one small chance but that was about it – he just didn't give us another one," Munday said.
"The key for us was to hold onto as many wickets as we could and have a red hot go in the third day. We think we're in with a great chance and we'll give it a real crack," Munday said.