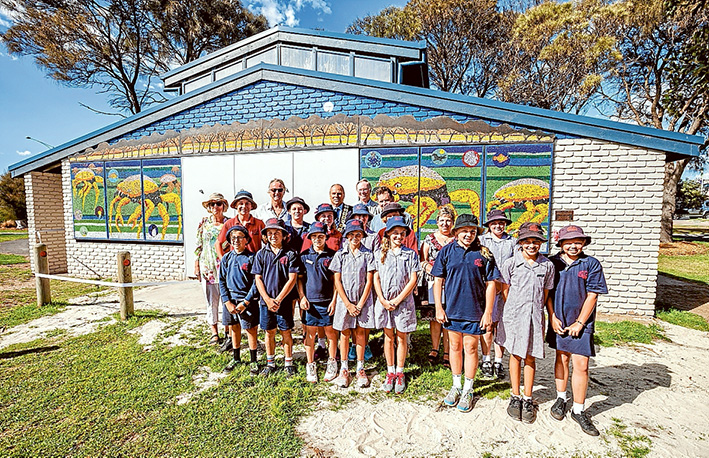 RYE pier is well known among locals, divers and underwater photographers for its role in the annual migration of spider crabs that come in, on mass, from Bass Strait.  The phenomenon is a popular YouTube topic.
Some years thousands wander under, and around, the pier forming what looks like a giant rugby scrum.
No one is sure why the crabs do this, but it has been suggested it is to moult while the scrum protects them. The crabs are a bit thin for eating, and look like small crabs on stilts.
The phenomenon made spider crabs an obvious choice for the mosaic art piece "Invasion of the Spider Crabs" on Rye foreshore.
Rye Beach Community Action Group initiated the project with Rye Primary School principal Jackie Annable a prime mover. They wanted to do something for the town and, in particular, create a work of art to complement the Rye community playground.
A shire place-making grant of $4000 helped to 'kick off' the project, with other funds coming from action and playground groups.
Key drivers were Rye Community Group Alliance's Mechelle Cheers, Rye Beach Community Action Group's Michael Wittingslow, and Rye Playground build coordinator Miranda Gillespie.
Artist Simon Normand worked with about 60 children on the mosaic's shape and form. For part of this time, he was artist-in-residence in the boatkeeper's cottage, Police Point Shire Park. From there he drew inspiration for the Moonah frieze that sits atop the mosaic.
Mr Normand will be exhibiting his work at Antipodes Gallery over Easter.
Rye Primary School pupils who drew the pictures for the circular mosaics, and who chose the colours and worked the drawings up into beautiful mosaic pieces, were Ocearna Barker, Caitlyn Humphrey, Will Cannan, Kaley Cridland, Billie Diamond, Taylor Jordan, Jesse Davidson Lopo, Ashley MacDonald, Imogen Scott, Andrew Stout, Keely Swayn, Faizah Twil, Bailey Dowling, Jemma Fanshaw, Toby Fuggle and Riley Gill.
Seeing their work up on the wall in all its glory was an exciting moment for the now grade sixers. Ella Fletcher, one of the school captains, gave a great speech on behalf of her peers and all were rewarded with cupcakes after the ceremony. It was a proud moment for teachers Sandra Emile and Tom Campbell.
Lionel Lauch gave the Acknowledgement to Country and performed the smoking ceremony in which everyone participated. The Mayor, Cr Graham Pittock, cut the ribbon and declared that the spider crabs had arrived.
First published in the Southern Peninsula News – 15 March 2016