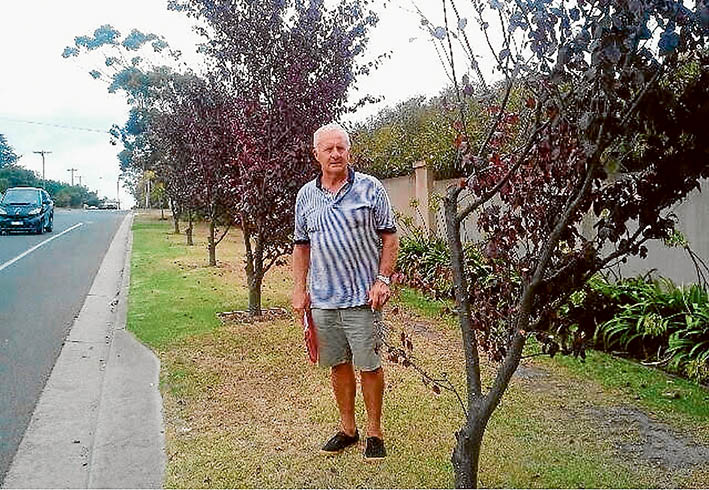 A MORNINGTON man is "appalled" by what he says is the savage and unnecessary lopping of small nature strip trees along Beleura Hill Rd, and the wholesale clearing of trees and shrubs in the street behind.
He has written to the deputy mayor, Cr Bev Colomb, to "express my utmost dismay at the tree-clearing in Craigrossi Rd, which has denuded our once beautiful 'country lane' of much of its vegetation".
"I am appalled," Mr Rob Debernardi said. "If such desecration had been undertaken by a private individual it would amount to tree vandalism."
He said the Craigrossie Rd was 250 metres long and sign-posted No Through Traffic, with three or four residents' cars using it each day. "So, why the excessive cutting and removal of trees and vegetation?" he asked.
Confronting the contractor, Mr Debernardi and a neighbour were told it was council policy to remove all vegetation 1.5 metres from the edge of the road.
This was confirmed last week by the shire's acting manager, Infrastructure Services, Graham Riley, who said: "The pruning works have been completed as part of our responsibility under the shire's Road Management Plan.
"The plan requires us to clear trees from road edges, street signs and intersections, ensuring safe passage for pedestrians and vehicles.
"Works are completed to Australian Standards Amenity Pruning for tree health and visual amenity."
But none of this explains the extent of the lopping to the residents. "When I asked [the contractor] why vegetation was removed up to three metres from the edge of our road, he said we should consider ourselves fortunate, as in three or four streets – including behind McDonald's (on Nepean Highway) – all vegetation on nature strips has been removed."
Mr Debernardi said most Craigrossi Rd residents had agreed several years ago not to back council's push for a new road because they preferred the current "ambience". It had retained its country-lane 'feel' until last week, he said.
"When I asked him why the branches of trees and shrubs had been cut so severely, he said he cuts all branches back to the trunk on the road side. [Yet] I have never seen this happen anywhere else."
Mr Debernardi said he had letter-dropped other residents warning them that "this could happen to them".
"At the entrance to our property there was a tree about three metres high, which I trimmed regularly to maintain its growth behind the edge of the open drain running down the side of the road. This tree has been cut down and I am left with an ugly stump, which I was told would be removed: this has not been done.
"Another neighbour, whose nature strip adjoins ours, is also unhappy about the ugly stump near his driveway. The tree removal has exposed the existing vegetation which is unsightly. Thus, this vegetation needs to be removed and the nature strips need to be refurbished with new plants.
"Furthermore, on the property opposite ours, the tree clearing has been so aggressive that it is unsightly and revegetation needs to be done here, too."