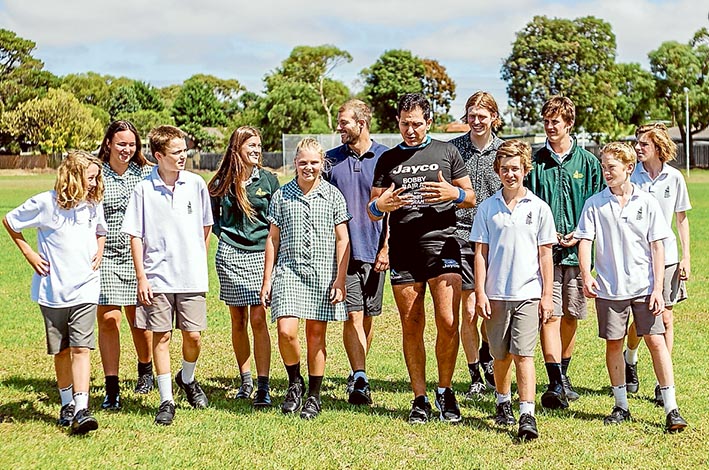 DIAGNOSED with multiple sclerosis (MS) at 13, Bobby Bajram, pictured above, knows what it means to face difficulties in life.
But being a determined type, he's now created another peak that has to be reached: climbing Mt Everest.
"I promised myself that MS would not beat me, and that one day I would walk to the top of the world," the now 48-year-old last week explained to Rosebud Secondary College students.
Mr Bajram's visit followed a chance meeting with a group of the college's students while hiking near Mt Bogong last month.
"Our paths literally crossed," he said. "The students were on their camp and I use the Bogong region for my training."
During his visit to the college Mr Bajram spoke about his struggles with relapsing-remitting MS, such as five years of intermittent blindness and nine years in a wheelchair.
He said MS still leaves him bedridden for half of each year.
"When my MS attacks, half of my body still becomes paralysed and the pain is excruciating. Walking feels like I am walking through thick mud," Mr Bajram said.
When well, he follows a five-hour daily training regime including gym sessions and treks in a specialist climate room to simulate high altitude conditions.
"I'm not a cowboy. Climbing Everest is a huge challenge even for an athlete and requires the right preparation."
His preparation has already involved climbing the 5654 metre high Kala Pattar and Mera (6476m) in Nepal.
He says his plan to climb Everest in early 2017 left his neurologist "extremely concerned" and could ultimately cause his MS to worsen.
"I know the risks, but I think it's important for all people, disabled or otherwise, to have a crack and see what they're capable of. I know I could lose my sight again or end up in a wheelchair once more, so it's important to have a go while I can," Mr Bajram said.
First published in the Southern Peninsula News – 22 March 2016