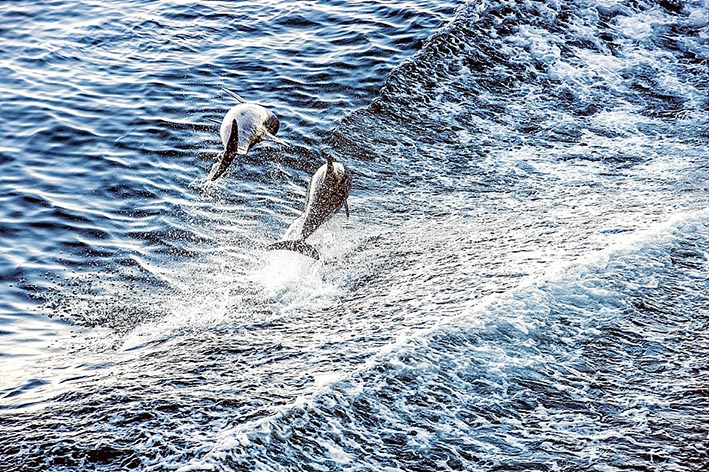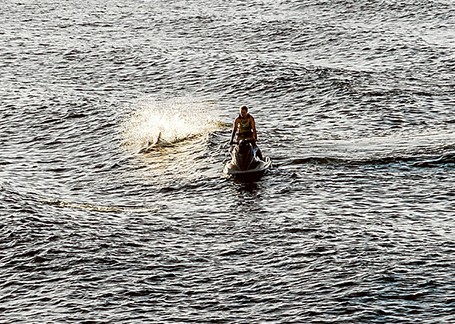 PASSENGERS on the final ferry for the day on Tuesday were entertained by a pod of dolphins swimming alongside the vessel and leaping from its bow waves.
Researchers believe the dolphins' "bow riding" is a social activity often indulged in after a meal.
"Without mind-reading a dolphin, it just looks likes good fun; the equivalent of a surfer catching the perfect wave," Dolphin Research Institute research director Sue mason said.
Coincidentally, Tuesday's display was admired from the ferry's aft deck by surfers Ted Bainbridge (founder Peninsula Surf), Laurie Thompson (founder Islantis Surfboards) and surfboard maker Mick Pierce returning from a Pioneer's Day held in conjunction with the annual Rip Curl Pro Bells Beach Easter contest.
Thompson recounted being "escorted into harbour" by dolphins while sailing to the Andaman Islands in the Indian Ocean with Bainbridge some years ago. Pierce sees pods of Port Phillip dolphins while travelling in a smaller boat to a favourite wave spot near Point Nepean.
While the dolphins made good use of the bow waves a jet-ski rider used the ferry's wake as a launching ramp.
One dolphin appeared to chase the jet-ski in much the same way as a dog runs after a car and, as soon as he saw the dolphin, the rider stopped accelerating as required by law.
"Our resident dolphins in Port Phillip are often spotted bow riding. Some of the best places to see dolphins bow-riding is on the bow of the Sorrento-Queenscliff ferry or on some of the bigger vessels off Mornington," Ms Mason said.
"While dolphins will approach vessels to bow ride, it is imperative that swimmers, paddlers, recreational vessels and jets-skis are aware of minimum approach distances to dolphins.
"These regulations exist to reduce the impacts on dolphins and ensure the safety of both the dolphins and the people observing them."
Distances that must be maintained from dolphins, whales and seals can be found on the Department of Environment, Land, Water and Planning website: delwp.vic.gov.au/environment-and-wildlife/wildlife
The Dolphin Research Institute has been monitoring the dolphins in Port Phillip for the past 25 years and recently launched 25th anniversary appeal. Details about the appeal and the 1 May Walk for Western Port at dolphinresearch.org.au
First published in the Southern Peninsula News – 29 March 2016