PENINSULA LEAGUE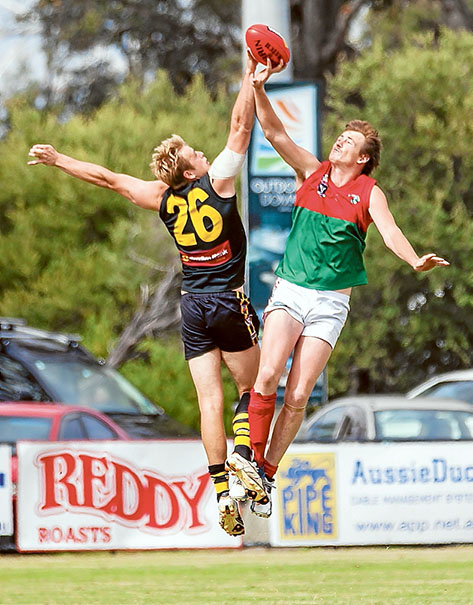 PINES made a big statement on Easter Saturday that it is ready to take another step in Peninsula Division after dishing out an old fashioned hiding to old foe Seaford.
The Pines bookends were extremely impressive, booting six goals to one in the opening quarter and six goals to two in the last to run out 69 point winners, 18.15 (123) to 7.12 (54).
Aaron Edwards was the star of the competition last season and he started 2016 in even better fashion than where he left off.
Edwards booted five goals in a blistering opening term before finishing with seven for the match. He played as much through the middle as he did in attack.
Tim Bongetti booted six goals in the second half while Paul Scanlon was a bull through the middle.
Together with Luke Potts, Scanlon was on ball for the entire second half due to a lack of rotations through injury.
We were all told to hold onto our hats with Paul Scanlon and Tim Bongetti and they didn't disappoint.
Guy Hendry booted three goals also for Pines, highlighting the overall potency of the Pythons up front.
Defensively, Pines stood up again. The back six average no more than 15 games between them but due to the improvement, along with the willingness of the mids and forwards to work back to support, the Pythons are yet to concede more than 56 points in four matches (including practice matches). They lost Joel Bruhn with concussion.
The Tigers are starting from a long way back this season with a new coach will only improve.
The list is almost brand new and it's going to take time. There were a lot of new faces in the yellow and black on Saturday.
On Good Friday, Edithvale-Aspendale started its season in wonderful fashion against Bonbeach.
The talk around the Eagles has been doom and gloom in the off season with the likes of Brett O'Hanlon, Brad Tagg, Tim Mavris, Jordy Derbyshire and Jarrod Garth all leaving the club.
However, they still have the likes of Tim and Steve Mannix, Mark Mullins, Mick Meehan, Tommy Turner, Jeremy Heys, Zac Muschialli, Todd Woodbridge and Matt Kremmer running around, with a sprinkling of new talent.
It was enough to knock the Sharks over in their first match of the season, 10.11 (71) to 9.8 (62).
Bonbeach led at half time by nine points before the Eagles booted five goals to one in the third to set up the win.
Elliott Macquire from Old Mentonians had an immediate impact on Peninsula Division with a best on ground display while Wonthaggi recruit Chris Wylie booted two goals and was a big unit in attack.
Shane McDonald booted a couple in his return game for the Sharks while Jack Williams and James Murnane were standouts.