NEPEAN LEAGUE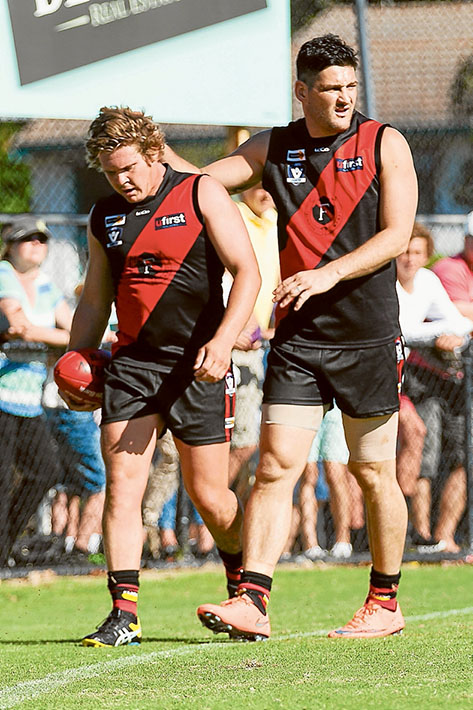 THERE was an emergence of another major player in the MPNFL 2016 Nepean Division on Easter Saturday.
Dromana may have gone through a lean period in the past couple of seasons following their premiership success, however, they announced their return on Saturday against Sorrento at Pier St Oval.
The Tigers' announcement was more than the 16.6 (102) to 11.11 (77) win – it was the way they went about winning.
You hear coaches say all the time now that it's "all about systems and processes" and the "results will take care of themselves".
While some of the Tigers' systems and processes may have broken down at times on Saturday, generally speaking, new coach Rikki Johnston and his brains trust got it right.
Teams playing on the Friday were excused for being 'a bit rusty', given their average showings, however, same couldn't be said for Dromana and Sorrento.
Sure, neither side was playing at 100%, however, the intensity they came out with at the first bounce was the same intensity they were playing with at the final siren.
Dromana is an excitement machine.
The Tigers' Under 18's won the flag last season and they have found some real future stars in Reece Wilde, Dean Waugh and Ethan Johnstone.
Wilde booted four goals for the match, all of them coming in the last quarter.
Beau Cosson is an excitement machine – he has an enormous tank, plenty of spunk and excitement, can take a grab and loves a goal. He's going to be a very tough match up for any team.
Michael Gillis and Jay Hutchison are in the best condition they have been in for years and their footy matched their commitment.
Rikki J may have been in a different jumper number but that didn't concern the Dromana faithful – his surety out of defence and cool head under pressure was a feature. He also spoke extremely well for a new coach, which, to be frank, wasn't surprising.
The core group in Shaun Clark, Terry Wheeler, Dan Guerts, Beau McMurray and Christian Ongarello were rock solid and new faces in Mitch Gill-Furness and Rory Gregg showed enough to get the natives excited.
Cade Williams was just what they needed through the middle of the ground and Adam Hunter looked comfortable in his first game back for a while – his goal to seal the match brought the house down.
Sorrento went into lock down after the final siren. There's a bit of work to do for new coach Nick Jewell.
Instilling discipline was always going to be a challenge for Jewell, given the team had pretty much run its own show under Troy Schwarze. Some arguing between players and the coaches box wasn't a good look when the whips were cracking in the last quarter.
Jewell played some players away from their normal positions. Some embraced it and others found it tough.
There were some big holes created with some of the Sorrento losses – Daniel Grant and Schwarze coming off the half backline and ruckman/key defender Jon Croad taking intercept marks were the most noticeable, while Leigh Poholke is a monstrous loss in attack.
The Sharks have found a real player in Nick Corp, who clunked everything that came his way. The spot for him is further up the ground, working defenders over and dishing off to runners to kick goals.
Scott Lockwood showed a bit but needs to stay at home one on one and kick goals.
At the 20 minute mark of the last quarter, Sorrento had got within a kick of the Tigers. There's still plenty to like about this footy team, which has a lot of new faces and will only get better.
Frankston Bombers have recruited extremely well in the off season and it showed on Good Friday with a convincing 16.13 (109) to 5.13 (43) victory over Pearcedale.
With Hawthorn great Dermott Brereton doing the running and former Carlton superstar Brendan Fevola (six goals) standing at full forward, it was always going to be a tough ask for the Panthers.
At half time with both sides kicking with the breeze, the Bombers led by 31 points. That blew out to 50 points by three quarter time.
Cramping was the biggest issue for both sides, who both looked under cooked.
Dale Sutton starred for the Bombers while Jarryd Amalfi provided plenty of run and drive from half back.
Joel White was good for the Panthers across half back and Alex Harnett played with grunt through the middle of the ground.
The takeaway from the match was that Pearcedale are going to struggle again in 2016 while Frankston Bombers will improve and challenge for the top five.
Somerville is the benchmark in 2016.
They were the grand finalists of 2015 and have only improved their list.
On Saturday they beat Tyabb by more than 100 points, 28.16 (184) to 11.6 (72).
Rosebud unfurled its 2015 premiership flag on Friday before the first bounce against Rye – it was the most excitement for the day.
Thankfully both teams finished on 48 points. The draw and the final minutes also brought some excitement.
If the match was an advertisement for local footy (outside of the atmosphere and crowd), you'd be lucky to go to another game again.
The wind played a role in the poor spectacle, however, it was more the extremely poor skill execution that took a stranglehold on the game.
Rye kicked four goals in the first quarter and only three more for the match. Rosebud had 23 scoring shots and 10 more than Rye but booted just five goals. The Buds kicked 1.7 to 1.0 in the final term.
There were a couple of highlights. Jackson McRae's game across half back shows he will take the next step this season for the Buds. Nick Boswell is in terrific shape and he made things look easy from half back also with his run and carry.
Rye would have lost had it not been for Adam Kirkwood – he was superb.
Ryan Mullett too is one of the hardest workers in the game. If Rye doesn't find someone to protect him, he's not going to see out the season.
Suffice to say there is enormous work to be done for both clubs.