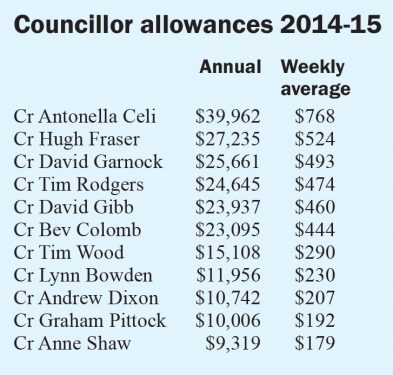 DETAILS of each councillor's spending on allowances will not be released until Mornington Peninsula Shire's annual report, possibly as late as October.
Elections to determine who will fill the 11 places on the shire's council will be held Saturday 22 October.
Attempts to verify the delay in obtaining details about councillor spending with the shire's communications manager, Mark Kestigian, were unsuccessful late on Friday. A message left on voicemail drew no response by deadline.
No statement appeared on the shire website.
But, if usual annual report practice is followed, the figures to be released will not be more than a précis of spending by councillors in the 2015-16 financial year – not the previous three years' figures, which last month showed some councillors had spent more than their allowances ("Adding up councillor costs", The News 1/3/16).
The figures will not detail each councillor's spending as sought at the 22 February council meeting. The revised details were given to councillors by 10 March but have remained secret.
The figures were expected to be made public a fortnight later, before Easter. But, three weeks on, they remain confidential.
It is believed the shire has sought legal opinion on whether councillors must repay amounts claimed above their allowance limit. One councillor is believed to have overspent in one area by well over $10,000.
The seeking of legal advice appears at odds with the council decision of 22 February that any councillor found to have overspent their allowances must repay the excess.
The original shire figures revealed spending in only one allowance area – seminars and conferences. They showed that two councillors, Antonella Celi and David Gibb, had overspent. Many allowance areas appear not to be capped.
The figures did not include a trip to Paris for climate change talks by the mayor Cr Pittock and C r Hugh Fraser.
Councillors get allowances for:
Travel.
Vehicle mileage.
Child care.
Information, communication.
Conferences and training.
Other costs, including superannuation, memberships, meals, uniforms and stationery.
The allowance for "conferences and training", also referred to as "seminars and conferences", is limited to $4000 annually, or $16,000 a councillor over each four-year council term.
Council officers provided full details of all this spending but some figures were further disputed and, it is believed, some adjustments were made.
The figures detailed the sum involved in each item of spending; to whom the money was pai; the goods or services obtained; and the date of each payment.
The shire's 12-page policy document on allowances is extremely detailed. For example, Travel Expenses are constrained to trips "undertaken by the most practicable route possible taking into account factors such as duration and cost of travel and where travel is by flight, the standard form of travel will be economy class".
Child care expenses are similarly constrained by way of limits on hourly rates for weekday, weekend and public holiday periods, with payments barred to "immediate family".
A carers allowance is payable for dependants aged over 17, the cut-off age for child care.
Cr Celi was mayor from 1 July 2014 to 9 November 2014. Cr Colomb was mayor 10 November 2014 to 30 June 2015. Each received the higher mayoral salary for their mayoral period.
Cr Colomb received $67,287 and Cr Celi's shire income was $49,661 over the year. Other councillors were each paid $27,916 for the year, according to the annual report.
Cr Celi was the only councillor to receive a child care allowance, which totalled $6982 over the financial year, or $134.27 a week.