NEPEAN LEAGUE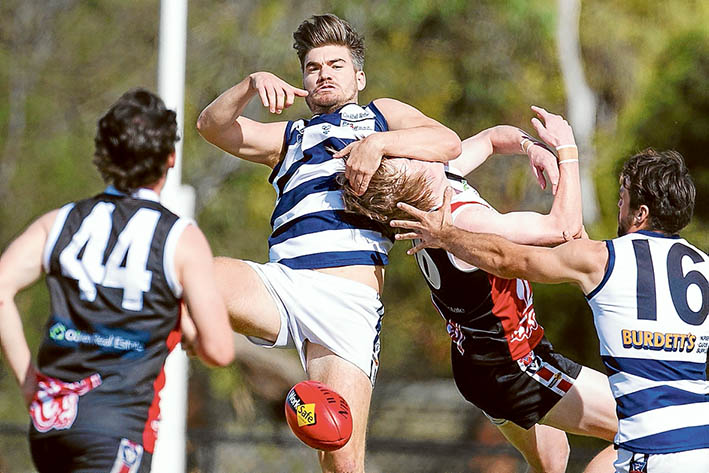 AS the old adage goes, a week is a long time in football. Two weeks is like an eternity.
On Good Friday a fortnight ago, traditional rivals Rosebud and Rye played in a game where many would have been asking for their money back at the end of the two hours.
Wind the clock forward 15 days and both clubs have their season well and truly back on track.
Some of us can be absolute suckers for writing off teams too early.
Frankston Bombers coach Beau Muston said on the RPP Footy Show on Saturday morning that players take time to get going in a season and that making snap judgements after one performance could be fraught with danger.
Muston was absolutely right.
On Saturday, Rye knocked over the side widely tipped as the unbackable favorite to win the 2016 premiership – Somerville.
Rosebud also turned its form completely around and beat a side that looked destined for great things this season, Dromana, after they had a wonderful Easter Saturday performance.
Rye's preparation for this match on Saturday against the Eagles was vastly contrasting to that of last season.
Rye Football Club legend Scott Beel said the team was 'flat' after last year's Good Friday game coming into round one after having a week off.
"We got trounced in round one against Hastings last year so we decided to play a practice match last week against St Bedes–Mentone so that we didn't lose that continuity," Beel said on the RPP Footy Show.
"I guess the result of the match against Somerville will determine whether our strategy was right or not."
Again, the former superstar Beel was spot on.
Rye jumped out of the blocks and led the Eagles by 10 points at quarter-time.
The very important Brady Egan was back into the line up and took no time in getting going, while best on ground on Good Friday, Adam Kirkwood, was dominant again in the defensive half of the ground.
Up front, despite not playing for a couple of seasons, Matt Greig, 38-year-old son of former North Melbourne champ, Keith, was moving nicely once again and finished with five majors.
By half time the Demons had broken the game open and led by almost five goals.
Criticised for their team defence through the week and not working hard enough when they didn't have the Sherrin, Rye went about sticking it up yours truly and succeeded, restricting the heaviest scoring team in the business to just eight goals.
The Demons booted 13.8 (86) to 8.12 (80).
Matty Dunn, who shone against Rosebud, was superb for the Demons, while Ryan Mullett was again a class above.
The Eagles were choked.
Ben Crowe was among his sides best in his second game back for the Eagles and Scott Simpson was outstanding again.
Rosebud also gave yours truly a whack with performance, whipping Dromana to the tune of more than 10 goals, 16.15 (111) to 7.5 (47).
Keegan Downie was sensational for the Buds with five goals while Greg Bentley was back into the line up and had an immediate impact, booting two goals and getting among the best on the park.
The run and free-flowing play of Dromana that we saw two weeks ago against Sorrento was completely shut down by the Buds.
The pressure and attack of the reigning premier was back on show and they were relentless for four quarters.
Daniel Guerts and youngster Jason Buchanan were the best of the Tigers.
Sorrento are no wins from two matches after being soundly beaten by Hastings at David McFarlane Reserve.
The Blues were up and about from the get go and led by 13 points at quarter time. They ran out 16.15 (111) to 11.12 (78) winners.
Paul Rogasch and Luke Hewitt booted two each for the winners while the returning Mark Deverereaux and Josh Mulheron dominated in the middle and around the ground.
Matt Clifford and Shaun Foster are outstanding players and their dominance also was a key to the game and Hastings' win.
Key forwards for the Sharks in Scott Lockwood and Nick Corop netted just one goal.
James Hallahan led from the front and tried his best to deliver something while Jack Flack worked hard also.
In a 16 round season, starting with two losses in such an even competition could be tough to come back from. We know better than to write off the Sharks too early though.
Frankston Bombers are away to a flying start after beating Tyabb 24.15 (159) to 2.11 (23).
The Bombers booted 17 goals to one after half time, Sam Fox booting seven and Zac Longham five, while Ryan Kitchen and Ryan Marks-Logan dominated.
Lachlan Cox and Sean Miller were the best of the Yabbies.
Devon Meadows got away to a solid start also, beating an almost full strength Pearcedale 13.17 (95) to 4.11 (35).
Glenn Michie booted five and Stevey Roberts was the best player on the park with three goals for the winners, while Andy Kiely shone and Chris Doria dominated through the middle with two goals.
Youngsters Alex Harnett, Joel White and Daniel Heijden were the best of the Dales.