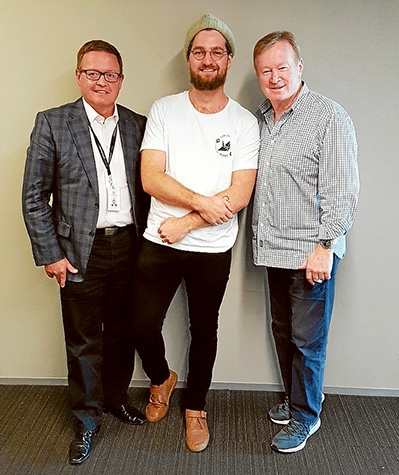 A MORNINGTON coffee company was recently awarded Radio 3AW and Momentum Energy's Small Business Achievement Award.
It was presented on Denis Walter's afternoon program.
Mornington resident Sam Keck started Commonfolk Coffee Company coffee roaster and cafe in 2013.
The 24-year-old zoology graduate wanted to introduce people to the concept of specialty coffee and connect them with all stages of its production – from the farmer to the importer and on to the roaster.
"The company battled through archaic council planning regulations but, finally, got permission to open up in the Mornington industrial estate – far away from your typical Main St cafe," Mr Keck said. "The building, in Progress St, is essentially a massive shed where we roast coffee for wholesale distribution and also sell through our cafe.
"It is made of recycled wood from old houses and put together by bartering with tradies along the street to use their skills in the steel work, truss manufacturing and painting."
From early on the new business decided to feed back into the industry. It began donating 20 cents from every coffee to The Cup That Counts – a charity they set up three years ago that now runs two demonstration coffee farms in Uganda creating more than 1000 jobs.
The company opened a second shop at McCrae in October.
"This year the company is focused on wholesale and also establishing a training course for local young people to learn all about specialty coffee," Mr Keck said.
"Commonfolk Coffee Company started off with passion and now they can be both successful and community focused."
Organisers of the award stated: "Our reason for selecting this business is their tenacity in getting going and cleverly dealing with situations that would deter many others; also, for their philanthropic efforts in creating opportunities for people in third world environments."
Mr Keck said: "It's great timing from the point of view of our charity. We recently ran a latte art competition (think pretty pictures in coffee) that raised over $2000 for our partnership in Uganda."