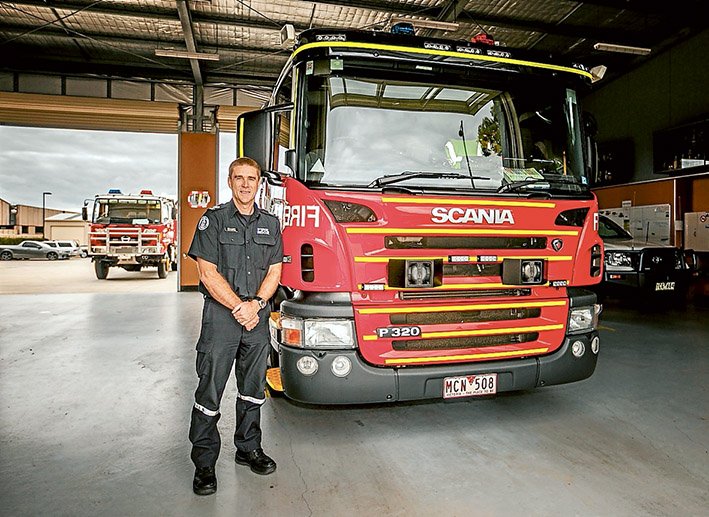 THE fire danger season on the Mornington Peninsula has officially ended, with fire crews thankful it's been a rather quiet affair.
Despite two short but intense blazes at Crib Point and one at Somerville, there were no long, drawn out fire battles over the summer period.   
Sadly, the Crib Point fires, which started at the same time a week apart and destroyed a home, cars and sheds, were deemed to be deliberately lit, although no one has been charged.
Mornington fire station officer-in-charge Troy Thornton said the weather had played a role in quelling fires. "We did not have the temperature extremes that we can have and we managed the fires we did have pretty well," he said. "Although we had some learning curves in fire management and control at Crib and Somerville, we worked well with other agencies."
One improvement in this year's fire fight was the CFA's Fire Ready app, which Officer Thornton said had "improved [the fire services'] engagement with residents".
Residents are more aware of fire danger and safety strategies that could save their lives. There's less complacency now, possibly due to lessons learned from devastating fires at Hastings in January last year when houses, sheds and parkland were destroyed in a devastating Saturday afternoon's carnage.
"People actually listen to radio and social media messages now, and act on fire warnings," Mr Thornton said.
He said community meetings run by the CFA, such as at the Bittern Stadium which 400 residents attended, kept people informed and were vital tools in galvanising public resolve.   
"There have been huge steps made in how we fight fires," he said.
"Initially we had real difficulties as the technology was letting us down, and it takes several seasons for people to get used to new ways of doing things, but the system is working now."
CFA District 8 includes the Mornington Peninsula, Frankston City Council and Kingston.
Operations manager John Francis said residents burning off on their own land needed to follow basic rules, and be aware of weather conditions and local council laws.
"We're urging people to do the right thing by checking conditions and registering their burn-offs," he said.
"Every year our brigades get more frustrated at the number of false alarms they have to respond to as a result of people not doing the right thing.
"Be aware that any calls to Triple Zero about smoke in the air at particular locations are cross-checked with the burn-off register. When nothing is listed, firefighters are required to attend.
"Calls to unregistered burn-offs take volunteer firefighters away from workplaces, families and, potentially, genuine emergencies. If you haven't registered your burn you can expect some fireys to be arriving at your property asking you to 'please explain'."
Burning off undergrowth and other vegetation is generally permitted outside of the Fire Danger Period, however, landowners should register their burn-off by calling 1800 668 511 or emailing burnoffs@esta.vic.gov.au
The information should include the fire's location, date, expected start and finish times, estimated size, and what is intended to be burnt.
"The burn off line is very easy to use and the operators are friendly, and prompt you by asking the key questions," he said.
A grass fire at Cape Schanck, 8pm, Tuesday, is believed to have been deliberately lit. Sergeant Mick Shearman, of Rosebud police, said the fire about a kilometre from the walking track burned about 75 square metres of grass before being put out by Boneo CFA.