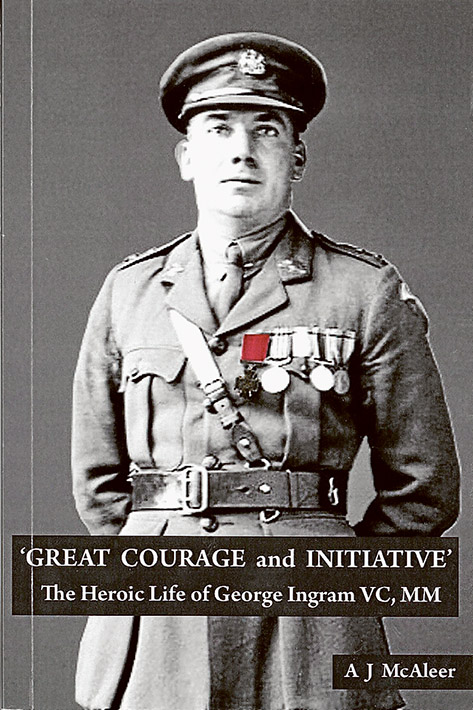 THIS recent publication, Great courage and initiative – The heroic life of George Ingram VC, MM, by A J McAleer, records the life of George Mawby Ingram who was awarded the VC for his actions at Montbrehain in October, 1918.
He was the last Australian to win this award in World War I.
George's family had orchards at Bagshot, near Bendigo, and later at Seville. On leaving school he  joined the militia (Australian Garrison Artillery), became a carpenter and volunteered for overseas service when war broke out.
He was sent to Rabaul where he contracted malaria and was invalided back to Australia.
He quickly re-enlisted, arriving in France in January, 1917 as a reinforcement for 24 Battalion. Soon afterwards he was awarded the Military Medal for his actions at Bapaume.
Subsequently he was promoted to lieutenant, suffered crippling injuries, but was back with his battalion for the last weeks of the war which included the action at Montbrehain.
Injury and ill-health dogged his life after the war when he was variously a soldier settler, Shrine guard, AIF training officer in World War II, and, finally, a foreman with building company E A and Frank Watts.                                                        
On his retirement from the building industry George Ingram built a house in Pinewood Drive, Hastings.
He died there on 30 June, 1961 and is buried in the Frankston cemetery. His wife, Myrtle, died in 2006 and is buried in the same grave.
The biography was launched in April, 2015 to co-incide with the centenary of the Gallipoli landings and one of the speakers was George's younger son, Alex.,who still resides at the Hastings property.
Copies of the book can be obtained from the Mont de Lancey Historic Homestead and Museum, 71 Wellington Road, Wandin North, 3139. The price is $25.
---
VICTORIA CROSS CITATION – Lt. George Morby Ingram, M.M., 24th Bn., A.I.F.
For most conspicuous bravery and initiative during the attack on Montbrehain, East of Peronne, on 5th October, 1918. When early in the advance his platoon was held up by a strong point, Lt. Ingram, without hesitation, dashed out and rushed the post at the head of his men, capturing nine machine guns and killing 42 enemy after stubborn resistance. Later, when the company had suffered severe casualties from enemy posts, and many leaders had fallen, he at once took control of the situation, rallied his men under intense fire, and led them forward. He himself rushed the first post, shot six of the enemy, and captured a machine gun, thus overcoming serious resistance.
On two subsequent occasions he again displayed great dash and resource in the capture of enemy posts, inflicting many casualties and taking 62 prisoners. Throughout the whole day he showed the most inspiring example of courage and leadership, and freely exposed himself regardless of danger.
---
On Saturday 10 May, 1919 George Ingram was given a civic reception in the small town of Seville where he grew up and where his parents still lived. (Incidentally there were three Ingram boys. All enlisted but only George returned.) As well as an inscribed gold watch and chain, George was presented with a framed copy of a poem written by one of his old schoolmates.
How George Won the Victoria Cross
By Mrs E Wallace
We have heard of brave deeds of valor,
Being done by our men o'er the sea,
While fighting for dear old England,
And to keep Australia free.
And here's George, our one-time schoolmate,
A hero among the rest –
Tonight we see him before us
With the VC on his breast!
No doubt you have heard all about it,
But 'twill bear repeating again;
It happened, you know, over yonder in France,
At a place that is called Montbrehain.
His platoon was checked, but he rushed the post
In the face of fierce resistance –
Nine machine-guns he took, forty-two were killed,
With the aid of his company s assistance!
But this, as you know, is but one of the deeds
That gained for our schoolmate renown,
Later on, the same day, when the enemy's guns
Were mowing his comrades down.
They were suffering severely, and leaders and men
Went down 'neath that fierce onslaught,·
Then George took command, and rallied the rest,
And inspired that confidence they sought.
The fire was intense, but he didn't lose heart,
And himself rushed a post all alone.
Shooting six of the foe, and taking a gun,
Out yonder, just east of Peronne!
We are proud of our schoolmate, and proud of the deeds
That gained him the coveted cross,
And we welcome him back to the land of his birth –
The land of the Southern Cross.
And we who are here assembled
Are one in mind and heart –
We are proud of the boys who left our shores
To take Australia's part.
In the fearful struggle just ended –
The fight against might is right –
Some of our lads have given their lives,
Whose faces we miss tonight.
How thankful we are to our Father above
Their lives were not given in vain;
For the foe has been conquered, the oppressor laid low
And right is proved might yet again.
Come on now, my friends, and show to the boys,
The boys who are gathered here,
Just show to them now we mean what we say,
And give them a right down good cheer.