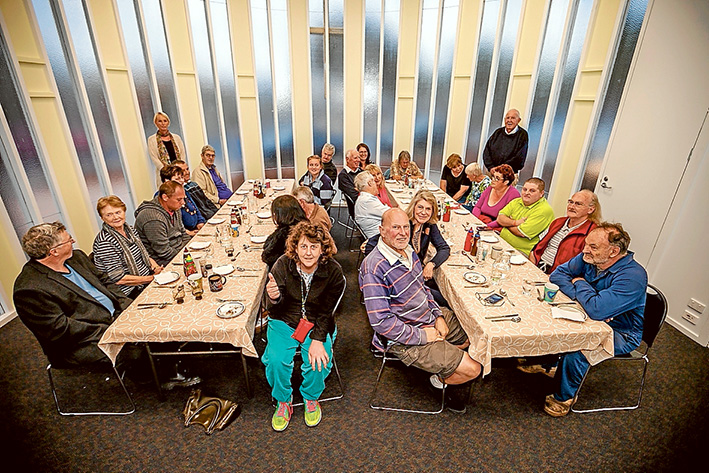 A DINING setting more in keeping with a restaurant than a 'soup kitchen' is enhancing the experience of Mornington Community Meals program participants.
Now back at St Peter's Anglican Church in Albert St, Mornington after renovations, the organisers held a small celebration to mark its return last week.
In three years it has provided around 5000 meals to locals experiencing social isolation, as well as local residents who ordinarily wouldn't be able to afford an evening out.
The meals are served by volunteers in what is more of a robust hub of friends enjoying each other's company, community meals committee chairperson Lisa Elliot said.
"Not only has the community meals service reduced the isolation for a group of around 40 community members, but they also enjoy interacting with the volunteers who have a better quality of life due to their involvement."
Ms Elliot said "everyone involved in the program is richer for the experience".
"I have had reports that our diners are physically healthier due to the menu of three healthy courses being provided free of charge twice a week," she said.
"I never expect to see our diners actually putting on weight, [but] it really struck us that some of our residents were going without meals due to their low-incomes."
On any Monday or Friday – no matter if it is Christmas, Easter or a public holiday – the meals are served by volunteers dedicated to a culture of providing nourishment and community.
"Observing some of our most vulnerable community members taking care of each other is the greatest lesson for us all. Many of them would give you the shirt off their backs if you asked.
"Those who are struggling most in this community can sometimes be the most generous. It really is a beautiful experience for us all."
Mornington Community Meals is funded through donations at a cost of around $14,000 per year.  Any donations can be made through Ms Elliot at Mornington Community Information and Support Centre, or to St Peters Anglican Church.