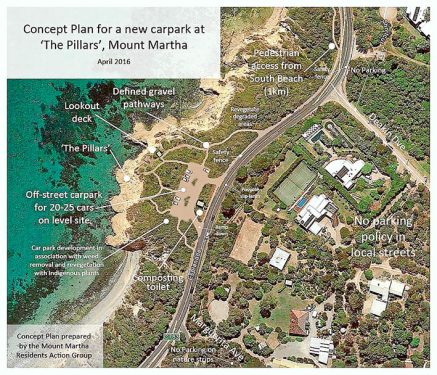 FED up with having cars parked across their driveways, rubbish strewn in streets and on lawns, and 20-somethings wandering the streets urinating behind bushes,  "concerned residents" in Mt Martha have formed The Pillars Residents Action Group.
Theirs is a campaign from the heart, and they are determined to protect their little piece of paradise from what's become a marauding herd of young people invading the once-pristine shoreline – in ever-growing numbers.
As part of their campaign, the group successfully requested young people's tourism website AWOL – which had listed "Jumping off The Pillars" as one of the 'Top 20 things to do' on the Mornington Peninsula – to remove reference to the site from their web page. The site had claimed to reach "over two million young and engaged Australians every month".
Another possible catalyst to their campaign was the ripping out of six no-parking signs by disgruntled young motorists looking for easy places to park.
Up to 800 young people visited The Pillars one day last summer for some 'cool' fun in the sun, swimming in the clear waters and jumping off the rock formations. It's a pattern repeated every warm day and most weekends over summer, and spurred on by favourable comments on social media.
"Our group formed in response to the current situation where high numbers of non-local young people are coming to the area to jump off the rocky cliffs," group member Sue Davey said.
"They are parking illegally, leaving rubbish everywhere – including in Lily Gully reserve at the bottom of Deakin Drive – and generally causing havoc in streets nearby."
The residents' group is not satisfied with Mornington Peninsula Shire's proposal to lift the current 'no parking' restrictions in many local streets.
"For residents in these streets, this is unacceptable," Ms Davey said. "There are no formal pathways or crossings to get to The Pillars, no bins, many roads are narrow and unsealed and there are no toilets or facilities."
A shire traffic and transport team plan to "holistically address parking concerns" near The Pillars aims to ensure minimum road widths are maintained through parking restrictions.
Traffic and road safety officer Digby Smith told the group by email that "most community concerns highlighted that road access (particularly in the case of an emergency) was being impeded by parked vehicles on both sides of local roads near The Pillars".
He said there were inconsistencies in current parking restrictions, particularly on Deakin Drive. "As a result, it is proposed that parking only be restricted on one side of Deakin Drive."
"At this stage the traffic and transport team is compiling feedback like yours about the parking plan for Briars Ward councillors … and to be able to update the community with a finalised parking plan."
The shire is liaising with the Department of Environment, Land, Water and Planning and VicRoads over long-term plans for the popular site.
Mr Smith said: "Initial feedback from DELWP is that closing The Pillars is not an option given their experiences in other locations.
"We have raised concerns related to the ongoing erosion, safety of pedestrians using the cliffs and crossing The Esplanade, rubbish issues as well as poor behaviour being exhibited on a regular basis.
"It is intended that a long-term direction be determined by the land manager responsible for The Pillars so that we can then implement infrastructure, enforcement and education to support this direction."
Mr Smith said a group request for a path between Mt Martha shops and The Pillars had "been recorded into our footpath construction database for future consideration".
The shire said constructing a footpath along The Esplanade was "a very difficult project given the terrain, culturally sensitive sites in the area, significant native vegetation and minimal space within the road reserve".
"Given the footpath would be on crown land managed by DELWP, their consent would also be required. We receive a large number of requests for paths on the peninsula and a path between Mt Martha shops and The Pillars is not currently a high priority," Mr Smith said.
Ms Davey, of Lempriere Av, said the group had "no intention of closing The Pillars".
"We just want to get rid of the rubbish, parking problems, have safe walking paths from the South Beach carpark, and parking bays in Marguerita Av and Deakin Drive."
Another idea is to build a lookout overseeing The Pillars to take away what's attracting young people in the first place. "About 99 per cent of the visitors are P-platers and we think they love the fact that it's hidden away," Ms Davey said. "Having families able to access a lookout and watching them would take away its allure."
The group has created a Facebook page where interested parties can comment, with entries to be forward to the council before the end of April.