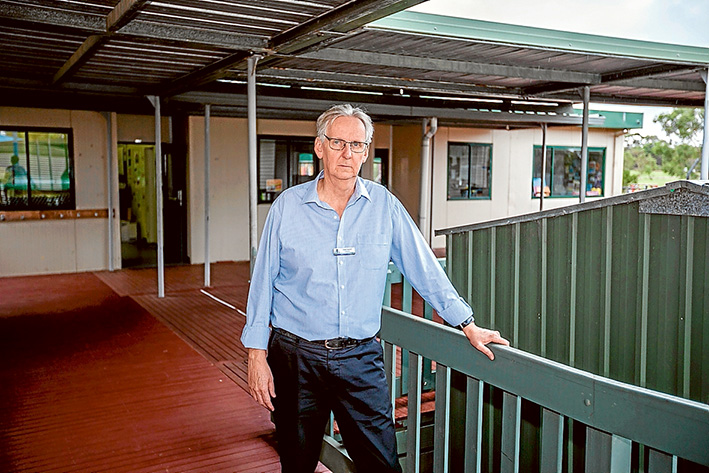 ESTABLISHED as a "temporary" school in 1987 and left to take care of itself over the following 30 years, it's no wonder Mornington Special Development School is dilapidated and run down.
Claims of asbestos hidden inside the walls, leaky roofs, run-down portables and substandard facilities don't paint a pretty picture of the school in what's acknowledged as being a low socio-economic part of town.
That's not to say the care and welfare of its 33 students is neglected, it's not, but the surroundings are less than desired by the seven staff and principal David Newport.
Despite last week's trumpeting by the state government that it will earmark $156 million from the budget to educate students with disabilities, and spend $68.5 million on refurbishing 20 specialist schools, the Mornington school has again been left out in the cold.
"We are not on the list and no one has contacted me," Mr Newport said.
"There is no process [for updating facilities] that I know of and it is very frustrating as we want to afford our students as much dignity as possible.
"We need fit-for-purpose facilities for our 33 students and nine kindergarten-age pupils."
Mornington MP David Morris has called on the state government to fund the "much needed relocation" of Mornington Special Developmental School to Hastings.
"The school is in a poor state, and needs to be relocated to the land set aside for it there," he said.
"The government must have overlooked the Mornington special school. With less than 50 students, it is too often overlooked."
It was always expected that the school would receive new buildings, and ageing plans are awaiting approval at head office, but "we haven't heard anything," Mr Newport admitted. "I think it's a case of being out of sight, out of mind."
He said he would contact the Education Department and "explore alternative avenues for obtaining funds".
Mr Newport – who joined the school in November after 13 years as principal of Springvale Park Special Development School – was unaware of any proposed move to Hastings.
He estimated the school needed $50,000-$100,000 to renovate its portables and update its playgrounds in Robertson Drive.
Despite the physical neglect, he praised the compassion and capabilities of his staff. "The school is what it is," he said.
"Because we are small we all pull together and each teacher knows each student. We provide speech therapy and physiotherapy.
"The teachers go above and beyond to provide the best in care and attention for their students."
Mr Morris said he called on the government to fund the proposed relocation in last year's budget – but "no funds were forthcoming".
"This will be the second budget where the government has refused to provide funding for students in our community who are most in need."
Mr Morris said that being listed in the Victorian Building Futures Program for rebuilding and relocation to Hastings meant the school was unable to receive Building the Education Revolution funding.
"The school was offered a new portable, but, with their limited space, they could not accept it and reluctantly had to hand the money back," he said.
"The school currently has no permanent buildings and lacks many facilities that most other schools enjoy. In 2009 they had 10 portable buildings with an average age of 30 years.
"The school has done a fantastic job with what they have. They deliver great outcomes for students, and the staff work tirelessly to ensure that students aren't disadvantaged by their school facilities.
"It is time the government played their part."