PENINSULA LEAGUE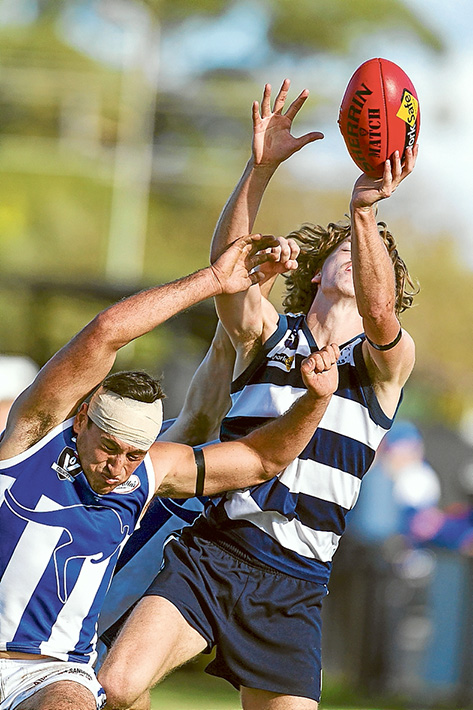 SEAFORD won its second game on the trot in MPNFL Peninsula Division, holding on to beat Bonbeach.
The Tigers led by 28 points at the last change after leading by just two points at the long interval, however, the Sharks stormed home in the last to fall short by 11 points, 13.13 (91) to 11.14 (80).
Seaford coach Ben Murphy told the RPP Footy Show on Saturday morning that he was confident that his young charges would continue to improve throughout the season.
"The guys clearly lacked leadership when I arrived and as far as I was concerned, this was the first thing that I needed to work on.
"Leadership, I believe, comes from empowerment and that's the way I've treated the group – they need to take control and I will provide all the support I can," Murphy said.
"It was also important to recruit players who were leaders, the likes of Dean Williamson and Kyle Matthews have been important in the teams' development, while the likes of Josh Stokes, Aaron Walton and Kain Taylor are senior players and provide strong leadership.
"The group also needed to understand, accept and execute a brand–new game plan, which is always going to take some time.
"I'm really confident that we have a committed group of players throughout the club. We'll experience some highs and low because that's footy but I'm excited about this season and the future.
"My previous role was not dissimilar to the Seaford role. The club has experienced great success in the past, fallen behind a little, has great kids and a good junior club and eventually we worked our way to win premierships again.
"That's the plan here at Seaford," Murphy said.
Dean Williamson and Kieran Shaw were outstanding for the Tigers while 11 individual players hit the scoreboard.
Luke Damon booted three goals for the Sharks in his first senior game for the club while Jackson Bennett and Dylan Jones shone.
The Sharks have a pretty good list and would be concerned to be winless after three rounds.
Chelsea is inside the top five after winning its second game on the trot also, this time against Langwarrin.
The Gulls set up the win in the second quarter with a powerful seven goal to one term, opening up a commanding 43–point lead.
Despite not being at full strength, the Seagulls still managed to boot 7.4 to 7.2 in the second half to run out 17.10 (112) to 10.7 (67) winners.
Matty Baxter booted four and Curtis Bywater three goals for the winners while Todd Gardniner and Grant Trew continued their great starts to the season.
Kieran Albanese booted four for the Kangas while leaders Shane Paterson and Gerard Brown collected the top votes.
On Sunday, Pines got its season back on track, beating Edithvale–Aspendale, while Frankston YCW flexed its muscles, beating Karingal by more than 100 points in the Frankston RSL Cup.