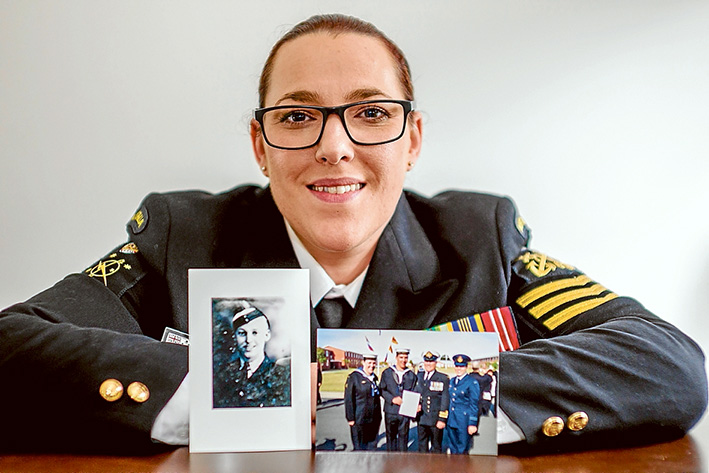 A CERBERUS naval instructor can look back on an active family history spanning three generations of service.
Petty Officer Amanda Garstin, of Hastings, attended yesterday's Anzac service in civilian attire as she is on leave. A keen photographer, she knew being out of uniform would allow her more freedom to take photos.
Since joining the navy as a communications information system sailor in 1999 Ms Garstin has received the Australian Defence Medal, Returned from Active Service Badge, Defence Long Service Medal, Australia Day Medallion, Clasp S Pacific 2006 to the Australian Service Medal, Afghanistan Medal, Australian Active Service Medal with Clasp ICAT, and Australian Service Medal with Clasp Solomon Islands.
Her maternal grandfather, John Langman (1925-2003), was a leading aircraftman in the RAAF, 1943-1946, who served as an assistant navigator in World War II. He was a founding member of Crib Point RSL and also on the former Hastings Shire Council until the mid-1970s, and as shire president 1967-68.
Her father, Godfrey Garstin, had an extensive naval career, 1968-2005, returning 2013-16 as a first lieutenant at HMAS Stirling. He was on the active reserve 2005-13.
Sister Michelle Oakden is a squadron leader in the RAAF, serving since 1996 at Laverton. Brother, Michael, currently living in Sydney, NSW, was also a member of the RAN in communications and information systems, serving 2005-12.