CRIB POINT FNC
By Jared Newton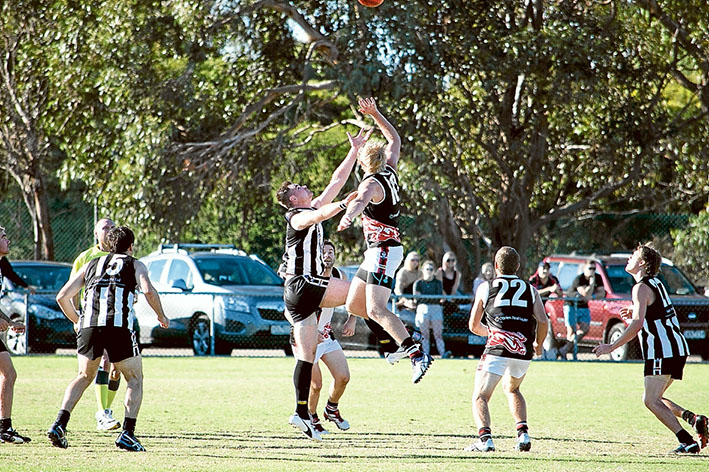 A BRAND new shiny scoreboard for Crib but it projected the same result as the seniors now 0-3 to open their season with a 50 point loss to Devon Meadows.
The seniors started well and ran with Devon for a solid half before being overrun after half time.
Avenues to goal are the biggest issue for the seniors who are struggling to apply enough scoreboard pressure to get on top of teams.
Brad Arnold was enormous in the middle and snagged three, and Kyle Arnott was also brilliant in his first game back into the seniors.
All in all it has been a flat start for the seniors who really need a spark next week to ignite their season.
The reserves were another case of not quite good enough in a good but not great performance against Devon reserves.
In a low scoring game where the lead see-sawed throughout it, was the Panthers who found themselves in front at the final siren with a 10 point win.
Crib had their chances but a slow start to the final term ultimately cost the Pies as they never quite recovered from the successive goals by Devon which put the game out of reach.
James Forecast was best afield across half back for the Pies and Mitch Kleinig kicked all the goals with 4.  If he manages to keep the skunk-like behaviour hidden and doing the team things like he has the last fortnight, he could very well find himself in the seniors if they're looking for a guy who can kick goals.
1-2 is underachieving at the moment but there are enough positives there to suggest it can be turned around.
The unders have well and truly put their first round disappointment behind them with their second successive win over Devon Meadows in a dominant display.
After an early arm wrestle, Barn's charges took control of the game to run out winners by 33 points.
Joel Wisken and Harri Dekleuver kicked three apiece with Harri being close to BOG. The senior selectors must also be keeping a close eye on the progress of Joey Smith too.