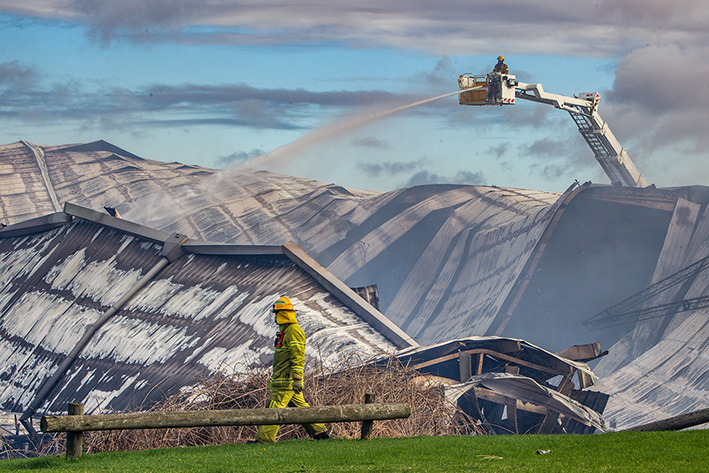 A 14-YEAR-OLD Somerville girl has been charged with lighting the fire which destroyed the Somerville Community & Recreation Centre, 7.30am, Sunday.
She will face Frankston Children's Court on charges of criminal damage by fire, Tuesday 7 June.
The damage bill to the Edward St stadium, mostly used for basketball, is expected to be $1.5-$2 million.
Basketball games scheduled for the stadium have been called a draw until other venues can be found.
The girl was reportedly with four friends in a teen hangout under the stadium called "The Shack" when they reportedly lit a small fire to keep warm.
They had been "mischievous", each telling their parents they were staying overnight with others, police said later.
Detective Senior Constable Peter Butland, of Somerville Police Complex, said the fire, fuelled by plastic sheeting, grew quickly out of control. The boys burned their hands trying to put it out it with a jacket and soft drink. They ran for water but by the time they got back were beaten back by dense black smoke and flames.
Detective Butland said the teenagers called the CFA and then, in a panic, ran a short distance and watched until fire crews arrived.
"We don't believe they started the big fire deliberately – it was an accident," he said.
"They are all traumatised. They wish they could turn back the hands of time."
Somerville CFA operations officer Joe Vertisi said fire crews began a frantic search for the teenagers, who he said were "unaccounted for", before they could even start fighting the fire.
"We were very concerned and spent time trying to find them," he said. "There was a lot of yelling and confusion as we tried to find out if they were still on the premises."
Mr Vertisi said 20 appliances and up to 80 firefighters took 90 minutes to control the fire.
Although the stadium was totally destroyed fire crews managed to use a "curtain of water" to shield the staff offices and child care area.
Westerly winds "howling like billy-o" gave the fire the upper hand. "The fire took hold in 15 minutes and there was no way we could control, it," Mr Vertisi said.
"It was just amazing to see the steel structure destroyed. Once the roof collapsed in on itself it was hard to extinguish as we couldn't get water under it."
Hastings CFA captain Jim Atkinson said the building was "fully involved when we got there at 7.30am and half an hour later the roof collapsed".
The scene was later inspected by CFA fire investigations officers, forensic police and shire officers.
Built in 1994, the stadium had two courts for basketball, netball, badminton, volleyball and floorball. The building included a customer service centre, early childhood program and occasional childcare, multi-purpose room, three community activity rooms, Somerville Community House, Maternal & Child Health Centre and a kiosk.
The customer service centre will be moved to the Somerville Library, 1085 Frankston-Flinders Rd, Somerville. For all other inquiries, including alternative childcare and maternal and child health, visit the Hastings Shire office on Marine Pde, Hastings, or call 1300 850 600.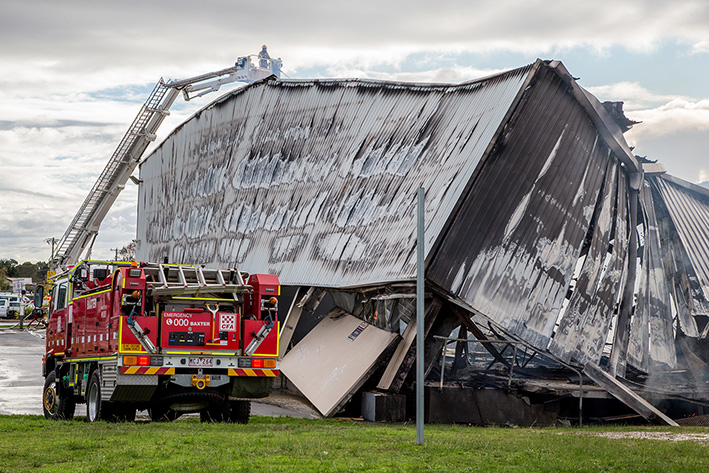 'Tough day' leads to games redraw
WESTERN Port Basketball Association operations manager Tyler Molloy said officials met Sunday night after their stadium was devastated by fire to plan emergency venues and inform user groups.
"We are working now on arranging external venues for 67 teams tonight (Monday) and liaising with officials from the Southern Peninsula, Mornington and Chelsea basketball associations," Mr Molloy told The News.
"Today we are getting in contact with local schools to assess court availability and start planning matches for 190 teams."
Officials later said all games scheduled for the Somerville Recreation Centre would be declared draws until a new fixture can be organised.
In an email to parents, administration officer/competitions manager Dale Jaensch said: "Yesterday was a very tough day for our association and I would like to update you all on what we will be doing moving forward domestically.
"We have been through a number of meetings and discussions regarding getting our players back on court as soon as possible.
"At this stage domestic competitions will continue.
"Teams that were scheduled to play at Somerville Rec Centre will be rescheduled to other venues. Until this change is made, all games that were fixtured to be played there will be made a draw.
"I will communicate with all teams once these games have been refixtured.
"All games scheduled to be played at satellite venues will continue as normal. All changes will be updated to the website.
"Thank you all for your understanding during this time. The office is working tirelessly to ensure your basketball experience at Western Port Basketball is of the highest standard."