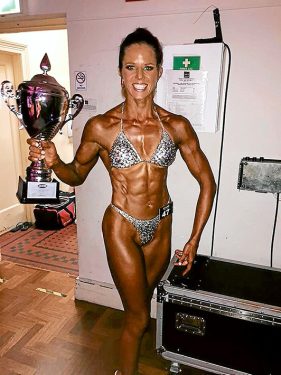 PARAMEDIC, personal trainer and a figure competitor Kimberley Parrott is a living advertisement for a healthy lifestyle.
The undefeated Australasian Natural Bodybuilding Fitness Mania Overall Women's Figure Champion recently won her second title in two years.
The win has qualified her to compete in the Ultimate Fitness Events World Championship elite division in Toronto, Canada, in November.
Parrott said bodybuilding was growing in popularity, throughout the world and on the peninsula.
"My journey as a bodybuilder and figure competitor began two years ago after attending a workshop. While listening to other competitors and feeling the passion from those around me, I knew that getting on stage was something I wanted to do."
Ms Parrott, of Frankston, had been weight training for 15 years, but then "everything changed as there was a new focus".
She and trainer Ty Hanley, of Hanley's Fitness Mornington, began working towards getting her on stage to compete in her first show in March last year.
"I already had good muscle mass, but due to my having scoliosis, we were presented with issues regarding symmetry in my back," she said.
"Symmetry is a large part of what is judged in a figure competitor, so this was something we needed to address immediately."
Correction was achieved with unilateral weight training and regular treatments from a physiotherapist, myotherapist and chiropractor.
Her weekly shifts as a full time paramedic involve two 10-hour days, a 12-hour afternoon shift and a 14-hour night shift, leaving little time left for training.
"My sights were set on the win, so nothing was going to stop me from training," Parrott said. "I would get up at 4am and train before my 7am starts, and I would finish my night shift and head straight to the gym to work out.
"I am also a part time personal trainer. There were days when fitting everything in was a challenge, especially closer to competition when I was doing a lot of walking, but I never missed a workout."
A last-minute decision to compete in a smaller competition to help ease first-time nerves paid off with wins in the novice women's figure and women's figure tall.
"After a quick turnaround I was back on stage to compete for Overall Women's Champion. In my first year of competing, and against many seasoned competitors, I became ANB's Women's Overall Figure Champion, qualifying for last year's world titles in Toronto," Parrott said.
However, other commitments, including being bridesmaid at a friend's wedding on the same weekend, meant she could not compete.
So, she began training to defend her title and requalify, with the focus still on symmetry but also on "adding muscle mass so I could bring a bigger and better body to the stage".
On 2 April Parrott took to the stage to defend her title. "I won my two divisions, Women's Masters 35-plus and Women's Figure Tall, with an additional win for best routine," she said.
"It was then time for Overalls, the moment we had spent all year building towards … and it was a unanimous vote from all the judges: I became Women's Figure Overall Champion for the second year running. Again, I qualified for the UFE Worlds in Toronto at the end of November.
"I have had one day off and am back into training, and cannot wait to see what we can achieve and what I can bring to the stage,"
A Canadian by birth, Parrott says her dream of competing in her home country "is going to come true".