LOVE THEIR CHROME
By Terri Lee Fatouros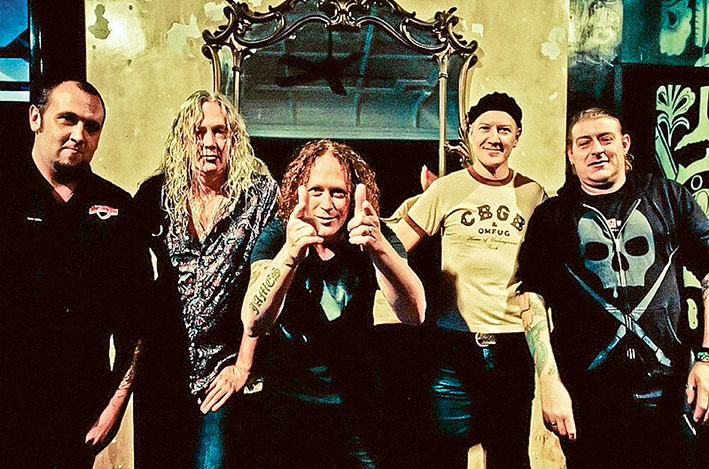 Australia's iconic classic rock band The Screaming Jets are back after an eight-year hiatus between albums, with their latest and greatest new release entitled Chrome. This seventh studio album has been a labour of love, with a mix of new songs that has a slightly new bent to their sound, to say the least, leaving the boys wildly excited with the finished product.
The Screaming Jets will be touring and showcasing their new material, but keeping authentic to their rockin' history by pulling out all their biggest hits along the way.
I chatted to Dave Gleeson recently and this is what the effervescent front man had to say.
"We are really excited to have the new album and realize it has been too long in between but nevertheless we are pumped. We actually played a bunch of the new songs during our tour in December last year, when Chrome was supposed to be released, and were delighted with the response. Paul Woseen wrote the bulk of the songs and Jimi Hocking and I wrote a couple as well. It was a great process working with Paulie, as he came in with about 25 acoustics. We listened to them all and then whittled it down to the songs we wanted to concentrate on, then built them up from there, which was a first, really. Paulie writes awesome rock songs, awesome in their arrangement, and he's a great lyricist. I can't wait to hear what people think of the album!"
Recently The Jets gigged with legendary guitarist/songwriter, Rockin' Rob Riley at the Boom Boom Room in Adelaide. Riley is best known for churning out remarkable songs for Rose Tattoo, Dallimore and The Party Boys. Slash from Guns n Roses claims Riley is his favourite guitarist of all times.
Laughs Gleeson, "On the night I might have had a couple of sherbets before the show, but that's because I was enjoying Rob's gig. He's a great guitar player and I just love his voice."
I assured him most fans would realize that's just "Dave being Dave." Chuckling, he said, "There's two kind of vibes for me. Obviously when we do our shows and go on tour, you can't go on stage too loose, but when it comes to playing parties and stuff… well, I let loose and get into my songs."
It certainly appears it is a formula fans enjoy because for the last few years, The Jets have been doing one tour a year, keeping their loyal supporters in the loop and staying active in the industry.
However, with their latest album Chrome being officially launched during their forthcoming national tour in May, this may very well change.
"This is the first time we've released this sort of album in this brave new world of digital music. But keep in mind there's still plenty of stuff we want to do in an old-school format, like recording a full album rather than recording a song here and there. We still want to connect with people from our past, and as a band continuing on, we want to connect and bring on board people hearing us for the first time as well. Chrome deals with everything from domestic violence, redemption, and raunchiness to homelessness. So many different topics are covered – hopefully we'll be able to please our old fans and get some new ones as well."
Gleeson rather enjoys the odd vinyl or two and recently dusted off his record player and got into a vintage collection he's had stashed for years. I guess enthusiasts would be advised to keep an eye out for the vinyl version of Chrome because Gleeson told me there will be a run on.
The Screaming Jets are your classic, loud rock band and in Gleeson's words, "We are not old blokes simply going through the motions – classic rock is a genre. To me it's two guitars, bass, great lead breaks, drums, great chorus, meaningful songs and everything from Aerosmith and AC/DC to The Angels. Supporting us is a band called Massive, comprising a bunch of guys in their 20s who embrace the true classic rock band image and sound. They don't sound old and jaded, rather new and fresh and are totally in the mode of classic rock. That's what we are too, and proudly so."
The Screaming Jets are founding members Dave Gleeson and Paul Woseen with Mickl Sayers, Jimi Hocking and Scott Kingman. Their national tour kicks off on Saturday, 7th May at the Corner Hotel in Richmond. Go see them and have a blast!
For more info visit:  www.facebook.com/TheScreamingJets