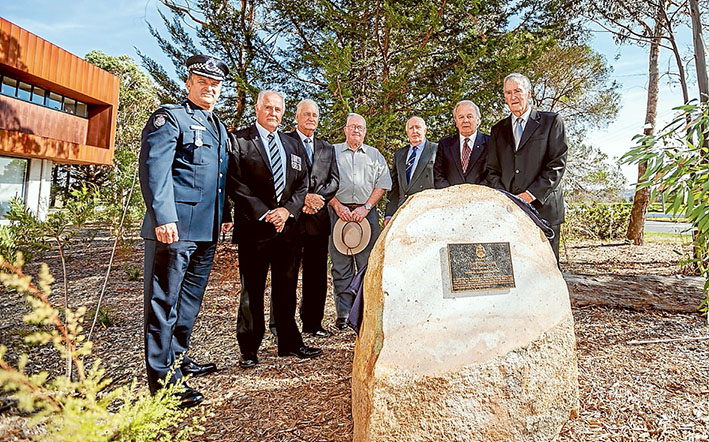 MORNINGTON Peninsula police last week paid tribute to fallen comrade Senior Constable Kevin Laube with a memorial service at the Somerville police complex.
The former motorcycle policeman died when his bike collided with a car on Coolart Rd, Somerville, in 1976 – just a stone's throw from the site of his memorial stone. The award has been a long time coming, but reflects the force's ethos of looking after its own, however long it takes.
Peninsula branch president of the Blue Ribbon Foundation Darryl Nation said it was fitting present-day police could see the memorial stone daily and reflect on the dangers they face and their commitment to each other.
"As a police superintendent at Horsham I saw how the community supports its local police and decided to start a branch of the foundation on the peninsula."
He said police walked a "thin blue line" between risk and personal sacrifice on the one side and keeping society safe on the other. Senior Constable Laube joins 158 other police to die while on duty.
Former colleagues of Senior Constable Laube – Terry Mountain, 'Bluey' Waugh, Bob Hill, John Welsh and Bob Bodycomb – also attended the ceremony, however, his wife, Eva, still can't bear to revisit the traumas of the past. She lives on the Gold Coast.
Mr Nation said the memorial stone was designed and its location agreed upon three years ago – fittingly at the site of the $16.3 million police complex.
The Blue Ribbon Foundation raises money for state-of-the-art hospital equipment, and asks that space for a memorial to a fallen officer be provided.
Two other peninsula memorials – at Frankston and Rosebud hospitals – pay tribute to fallen officers Edward Simmons, who died in 1957, and Clive Smith, who died in 1938.
Assistant Commissioner Robert Hill said Coolart Rd had "a dark history of road trauma" and that it was fitting the peninsula's mobile traffic branch was deployed there.
He said police everyday faced inherent dangers in their jobs. "We aspire to bring our people home and aim is to create a safe working environment for our members."
Police Chaplain Graeme Watkinson said the community "thanked those who give their lives so that others may live in safety". He said the plaque would serve as a constant reminder of the dangers facing police every day.