SOCCER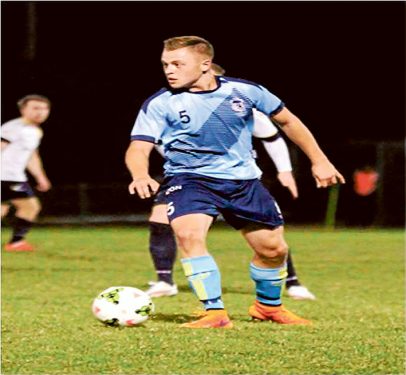 By Craig MacKenzie
FOUR local clubs are in the hunt for title honours after six rounds of the 2016 soccer season.
Mornington is equal on points with league leader Malvern City, Skye and Baxter head their respective leagues while Rosebud Heart is breathing down the neck of its Baxter Park arch rival.
Mornington found Mooroolbark a tough nut to crack but fashioned a 2-1 win in their State 1 South-East clash at Dallas Brooks Park on Saturday.
Andy McCabe's visitors deservedly went in 1-0 up at the interval thanks to a 43rd-minute strike from Adam Doughty.
During the break Mornington coach Adam Jamieson replaced Scott Webster with Nick Waite and switched to a 4-3-3 formation and this attacking move was rewarded with an equaliser in the 59th minute via a low, hard drive from the edge of the box by Chris Reid.
Jamieson then substituted defender Chris McKenna for winger Michael Freeman who skinned two opponents in the 83rd minute and struck a firm shot across the opposition keeper and into goal for the winner.
Mooroolbark's Dave Brickell was sent off in the 89th minute.
Frankston Pines succumbed to a Korean KO when it went down 4-2 away to Casey Comets in their State 1 South-East derby last Friday night.
Comets went ahead in the 36th minute thanks to a Danny Waddup cross and a header into the far corner by gun Comets striker Ryan Hughes.
South Korean import Sanghyup Han's low left foot free-kick in the 44th minute somehow eluded everyone and nestled in the far corner of the Pines goal to make it 2-0.
But Pines hit back in the 67th minute when a short corner found Matty Davis who curled the ball over Comets custodian Michael Sivulja then Matthew Hames robbed an opponent and set up Ioasa Saemo for a tap in to make it 2-2 after 71 minutes.
That was the signal for Han and Junsoo Park to do their thing.
In the 75th minute Han sent his countryman clear and Park finished past a helpless Sam Griggs in the Pines goal.
Han settled matters two minutes later with a shot on the turn from 10 metres.
Langwarrin continued its stuttering start to the State 1 South-East season when it slumped to a fourth loss in six games going down 3-1 away to Manningham United Blues on Saturday.
Franc Carafa gave the home team the lead after nine minutes but Langy's stand-in skipper Boris Ovcin equalised and it was 1-1 at half-time.
Two classic snatch-and-grab strikes in the second period by Vojtech Engleman in the 70th minute and Aaron Root in the 85th minute left Langy lamenting a series of missed chances.
Manningham's Matthew Infantino was sent off in the 89th minute.
The promotion momentum of Peninsula Strikers took a hit with a 4-1 away loss on Sunday in a State 2 South-East clash with North Caulfield.
Ilya Davidov put Yonnie Lipshatz through in the 8th minute and he toe-poked the ball past advancing Strikers keeper Richard Ojo to make it 1-0.
Strikers hit back six minutes later when Trevor Johnston found space at the back post to power a header past Oscar Vonk following a corner from the right.
Just on half-time referee Hary Milas pointed to the penalty spot and Gideon Sweet converted.
Red cards for Matt Morris-Thomas and substitute Ali Osmani in the second half ended Strikers' hopes and Davidov struck twice in the closing minutes to complete the scoreline.
Seaford United went down 1-0 in a State 2 South-East clash away to promotion chasing Doveton on Saturday but showed great determination in stretching the home side every inch of the way.
The decisive moment came in the 16th minute after Seaford passed up three chances to clear and Saidi Simba's deflected shot wrongfooted Seaford keeper Nick Bergmans.
Skye United heads the State 4 South table after Saturday's 4-2 home win over Endeavour United.
Skye captain Mark O'Connor's low shot in the 11th minute opened the scoring but Dalveer Jandu levelled midway through the half after nutmegging a defender then firing the ball past Skye keeper Jonathan Crook.
Jason Nowakovski then handed the visitors the lead less than five minutes later, cutting inside on his left to find the back-of-the-net.
Skye's Josh Tanner restored parity right on half-time when his cross, directed at the front post, snuck through keeper Franco Marateo's legs to make it 2-2.
With 12 minutes remaining, Skye hit Endeavour on the break as substitute Matt Wilson propelled his side into an unlikely lead with a powerful attempt across Marateo and into the bottom left corner.
Man-of-the-match Daniel Attard sealed the result five minutes later in similar circumstances.
Skye gaffer Billy Armour is keen to maintain his club's momentum and was hoping to sign Alex Roberts from Seaford as we went to press.
Baxter kept its perfect record intact and sits on top of State 5 South after a 2-0 away win over Old Mentonians last weekend.
The visitor took a 1-0 lead into the half-time break thanks to a clever free kick from Liam Kilner which set up Daniel Sharratt for a tap-in and his second goal of the season.
Shaun Walker settled the issue after coming off the bench in the 75th minute to open his account for 2016.
Local rival Rosebud Heart also has made a perfect start to the season and stayed on a collision course with Baxter thanks to a 5-0 away win against Pakenham United on Saturday.
A three-goal blitz in the opening 15 minutes ended this as a contest.
Heart's goals came from Dave Greening (3), Beau Sharpe and Aaron Young.
NEXT WEEKEND'S GAMES
Saturday, 7 May, 3pm: Frankston Pines v Manningham Utd Blues (Monterey Reserve), Warragul Utd v Mornington (Baxter Park, Warragul), Morwell Pegasus v Langwarrin (Ronald Reserve), Peninsula Strikers v Sandringham (Centenary Park), Heatherton Utd v Seaford Utd (Bosnia & Herzegovina Centre), Noble Park v Skye Utd (Norman Luth Reserve), Baxter v Casey Panthers (Baxter Park), Rosebud Heart bye.