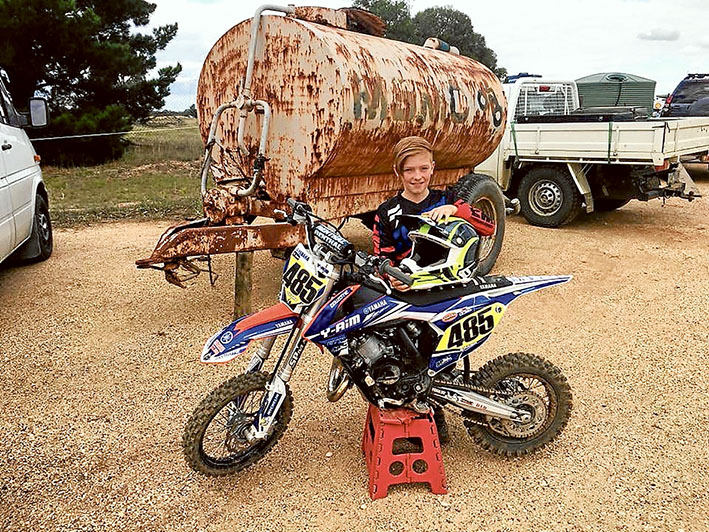 RISING motocross star Ty Sharp is leading the charge in the 65cc C grade class in Victoria's premier motocross competition for juniors – the M2R Helmets Victorian Junior Motocross Championships.
The third round was held at Ararat over the weekend.
The nine-year-old, of Red Hill South, has won all his races – against 39 other riders. The season started in March at Outtrim.
He also loved the track at Warrnambool during round 2 in April. "I really liked the jumps and the corners at Warrnambool. I got stuck in the starting gate in race one so was a fair way behind the field and I had to catch up quickly and still came out and won."
Sharp leads the 65cc C grade class by 48 points.
He is also a big fan of the track at Ararat and recently took part in a coaching day there to get used to it. "I had a lot of fun there and now know the way the track flows and moves so it should be great fun [last] weekend," he said.
Sharp started racing in 2013, then took a break last year to play footy. He made the decision to come back and started training with Cameron Taylor in November.
He has since got back into the swing of things by winning all six of his races. "I wanted to have a go at footy but I really like the excitement of motocross," he said.
"I would really like to thank my sponsors and my mum and dad for all their help throughout the season.
"I would feel really happy if I managed to win a Victorian title."
Sharp would also one day like to be like Jed Beaton, another Victorian, who is currently leading the MX2 class at the 2016 Motul MX Nationals.
First published in the Southern Peninsula News – 10 May 2016