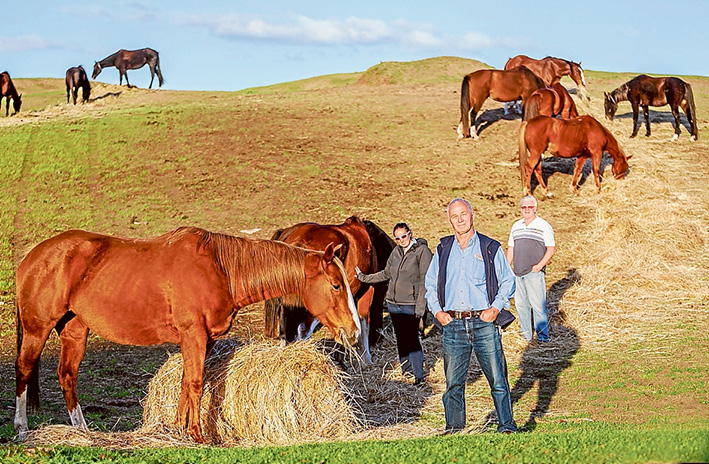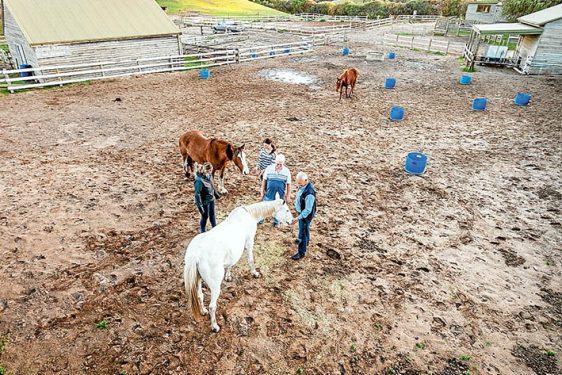 THE manager of the Ace-Hi horse ranch in Boneo has denied allegations that horses at the property are mistreated.
This follows an RSPCA inspection of the Boneo Rd property on Wednesday to investigate claims by a former manager of under-feeding and overworking of horses.
Kellie Puddy, who says she resigned in distress in March last year, said she "couldn't believe" the poor standard of care and the malnourished state of the horses ridden during the week by schoolchildren and at weekends by adults.
"The RSPCA has a file on Ace-Hi but they need hard evidence to prosecute," she said.
"It's a sad life for the horses, some of whom have been there 20 years. Now they are facing another winter out on a 200-acre paddock."
Ms Puddy has run a social media campaign against Ace-Hi, saying she was forced to feed horses with her own money.
"The owners promised every week they would get more feed in, but they never did. I was only given about $250 a week to feed them all – that's what you feed two horses on a week.
"How do they get away with it? Every time, the RSPCA comes out, and then that's it."
Ace-Hi manager Lauren Crosbie, who has worked at the 21-year-old trail-riding ranch for the past 10 years – two as manager – said the cruelty claims were rubbish.
"When the six RSPCA officers and a vet left on Wednesday they said there were no problems and that the horses were in a moderate condition," she said.
"They said no cruelty notices would be issued."
Ms Crosbie denied that 30 of the 46 horses on the ranch had been trucked out soon after the RSPCA visit – ostensibly to a pet food factory near Echuca.
"That just did not happen," she said. "The whole 46 are still here and being looked after."
She said two Clydesdales put down Tuesday – Blue and Jim – had cancer and arrangements to euthanise them had been made with a vet weeks before.
"It would have looked worse than it was, but we were taking our vet's advice," she said. "The video [shown on Facebook and Channel 7 news Wednesday night] was deceptive."
In a statement on Thursday, the RSPCA said it had investigated "a number of welfare concerns at Ace-Hi in the past decade" and "a number of reports received on Monday and Tuesday raising concerns for the welfare of horses on the property".
"None of these investigations has uncovered issues that would meet the threshold for a cruelty prosecution under the Prevention of Cruelty Act. The current investigation is ongoing."
The number of horses meant the RSPCA "will take some time for inspectors to collate all of the information gathered to assess the welfare of all of the animals".
"If we identify particular welfare issues we may work with the owners of these horses to ensure that they are clear about their animal welfare obligations, or we have the option of issuing the owners with notices to comply.
"As is always the case, the option of prosecution is available if we find evidence of serious cruelty."
Many online comments backed up Ms Puddy's stand: "A huge well done to Kellie for not giving up and taking a stand for these horses. It's far from over yet but, hopefully, justice is served and something is done" summed up the response.
Ace-Hi owners Ron Neary and Tony Marks defended their ranch on Facebook: "Not one horse was removed from the property [by the RSPCA] – not before, not after.
"Six [RSPCA] staff, including one vet, were here for about five hours. They were very thorough in examining the horses' bodies, teeth, hooves, diet and our records of every horse.
"Records, including expenditure on horse food, vet records, incidents of horses' health after an injury (eg cuts), worming etc were examined for every single horse.
"We have not yet received their report. They did not and do not plan on removing any horse from the property. They issued no notices of cruelty, no notices of neglect.
"For the record, those photos of Jim and Blue were taken on April 11."
The ramifications of the unfavourable publicity are all too clear. "We've had to turn our phones off and we've been bombarded by abuse on social media," Ms Crosbie said.
"We haven't had much sleep since all this started and we just want to put our side of the story across. We know we are doing the right thing for our horses."
Ms Crosbie said the word "murderers" had been scrawled on the ranch's front gate.
First published in the Southern Peninsula News – 10 May 2016