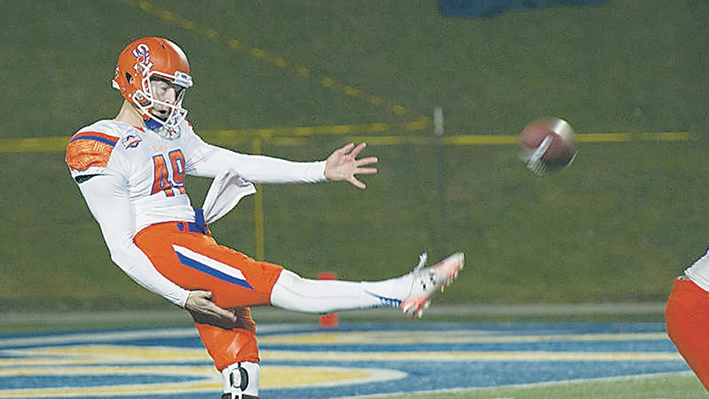 IN a first for Hastings – indeed the whole of Australia – a local boy has nabbed the Holy Grail of sports by becoming the first punter to be drafted by a top American NFL team.
Lachlan Edwards, of Hastings, went to Balnarring Primary School and Mornington Secondary College. He played junior footy for Red Hill and Crib Point, notched a premiership with Somerville under-18s, played under-16s and seniors with the Dandenong Stingrays, had a stint at Frankston Dolphins and then played in the seconds for North Ballarat Roosters while at university.
That background – with forays into rugby, cricket and athletics – helped him scale the heights of US college football to now be a prospective punting star with the New York Jets.
Hang-time and accuracy are his kicking strengths – both greatly admired skills in gridiron – made easier by his 1.95 metre, 97kg frame.
His mother, Lin Edwards, is still coming to grips with her son's transition from seconds footy in a Victorian country town to the might of a senior professional punting career.
It began – like so many momentous moments – by chance. A Ballarat university professor saw the then 20-year-old kicking the footy on an oval in 2012 and, impressed by his accuracy and distance, suggested that he should be playing gridiron in the US.
The US gobearkats.com website, in an article introducing the new punter and forwarded to The News by Mrs Edwards, said the professor had contacts at the Australian punting and kicking academy OzPunt, which searches for college scholarship places for Australians in the United States.
The ducks – err footballs – were aligned and, six months later, Edwards was a special teams player for the Sam Houston University, Texas, football squad, making a name for himself as a punter.
The website says he had the most punts in one season (80), most yards in one season (3525) and best single game punting average (49.8). As well as that, it says he can top out at 5.2 seconds of hang time at close to 60 yards.
"During his three years at Sam Houston he produced 45 punts of 50 or more yards and had 72 punts killed inside the opponent's 20."
The national league came calling on 1 May, with the website saying Edwards was the 19th Bearkat to be drafted when the Jets claimed him as their 235th pick.
There was no mention of him being the first Australian ever to drafted as a punter. Now 24, Edwards once shared a room with famous Australian NFL player, Darren Bennett, who is now in the NFL Hall of Fame.
Mrs Edwards said her son was seemingly overlooked by a sports hungry media, which focused on another roommate, Tom Hackett, as the next likely pro football star, with Edwards pinned as "just another Aussie hopeful".
But the Jets general manager and special teams coach were in touch with him every week, waiting for their opportunity to pounce on the sports science graduate. They officially signed Edwards to the Jets on Thursday 5 May.
"Aussie kids are so popular now," Mrs Edwards said.