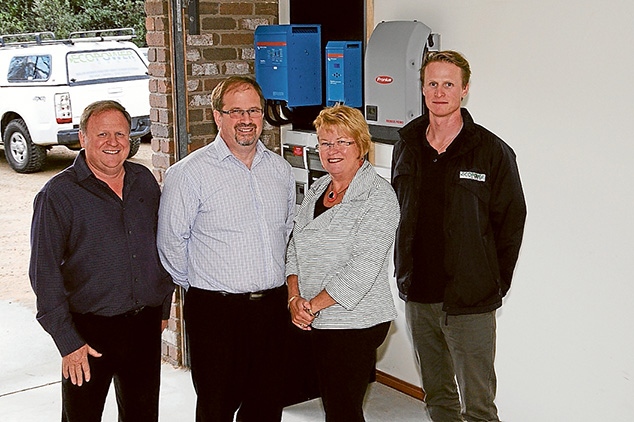 Two small garage-sized tin sheds in Langwarrin South may hold the key to cutting the cost of domestic power needs while providing a reliable source for off-the-grid sites.
A relatively small bank of lithium batteries developed in the sheds can be used to store enough power from solar panels to run a household for up to three days.
In trials already under way they are powering electric fences, golf buggies, caravans, small waste treatment works and now houses.  These long lasting batteries can effectively store power from solar panels to be used at night or in cloudy conditions rather than diverting the daytime excess back into the grid.
The makers of the Tardis Battery say the cost of buying this excess back from a power company is inevitably more expensive than the credits received for its supply.
The relatively small cabinets required for the batteries to be fitted for domestic use seem a far cry from the project initially embarked on by its developers: an electric bicycle.
Neighborhood colleagues Andrew Lamb and David Treanor shared rides to work at General Motors in Port Melbourne. The two engineers knew car manufacturing in Australia was all but doomed and came up with the idea for an efficient electric-powered bicycle while talking about "life after GM".
Lamb shared their ideas with Max Coulthard during a chance meeting a Frankston Chamber of commerce networking night.
Coulthard, a former senior lecturer in business strategy at Monash University, quickly realised that efficient batteries could have many more uses than just for bicycles.
"What's unique about our batteries is that they're small on the outside but big on the inside," he says.
Coulthard, Lamb and Treanor formed MagEfekt in 2012 with the specific aim of "designing, building and manufacturing battery packs to meet specific customer requirements".
Their long-term goal is to produce energy dense batteries for mobile and stationary applications and make electric wheel motors using solar car technology.
Lamb had a history of being involved in the technical side of solar powered cars.
Lamb's involvement with the Aurora Solar Car Team saw him come up with nine "unregistered patents", according to Coulthard. "He just wanted to give them to the world and helping develop a future automotive industry".
Coulthard said the partners decided car manufacturing was beyond their means so decided "we'd first take a look at batteries and controllers".
"We originally thought about a complete automotive system, wheels, batteries, controller and motor," Treanor says.
But once that idea was shelved, one of the first projects came through speaking with a wheelchair manufacturer in Noble Park about the safest technology for an electric vehicle.
"We came up with an idea that saw us replacing two batteries with one, which meant half the weight and double the capacity. It provided consistent power," Treanor says.
Wheelchairs driven by MagEfekt's batteries are undergoing tests and trials.
The partners say their lithium iron phosphate (LiFePO4) battery is "the most energy dense" of its type in the world … as far as we can determine".
Relatively small cylindrical steel-cased lithium cells form the heart of the battery developed under the Tardis Battery brand. These small Chinese-manufactured battery cells are linked together within a moulded urethane casing.
They are connected with wiring, eliminating the need for terminals and can operate under extreme conditions (45 degrees to minus 80) and are waterproof.
Coulthard says MagEfekt's biggest intellectual property is how the small, individual cells are integrated in the urethane casing. "The result is a cool, light, long-lasting and safe to use battery."
Coupled with solar panels they can operate free of the grid, either at remote locations or in combination with the grid for domestic and industrial purposes.
"Solar systems on houses are virtually donating power to the grid," Coulthard says.
"It's a dilemma for people coming off contracts [with power suppliers]. Do they connect to a smart system or go hybrid and retrofit an existing system?"
Treanor says MagEfekt's system requires no changes to existing solar panel infrastructure: "It's almost like installing a new appliance."
He said power could still be sold back into the grid once the batteries are fully charged.
"This battery storage system can be added to houses to provide uninterrupted power and the daily usage can be tracked by computer."
While the lithium batteries are more than double the cost of conventional lead acid batteries their service life (10-15 years) is much longer and the partners believe the MagEfekt system will pay for itself in about seven years.