Prime Minister Malcolm Turnbull triggered a double dissolution of the House of Representatives (lower house) and the Senate (upper house) and announced the federal election will take place on Saturday 2 July.
Candidates and voters across the country face the prospect of a gruelling eight-week election campaign ahead of polling day as the main contenders for the seat of Dunkley – covering an area from Seaford to Mornington – square up to succeed outgoing Liberal MP Bruce Billson who is retiring from politics after a 20-years plus political career.
The main suburbs in the Dunkley electorate include part of Baxter, Frankston, Frankston North, Frankston South, Langwarrin, Langwarrin South, Mt Eliza, Mornington, Seaford and part of Skye.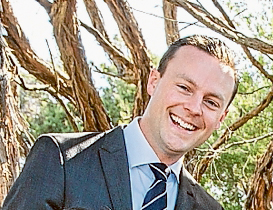 LIBERAL candidate for Dunkley Chris Crewther is a new convert to the Frankston and Mornington area's many charms having grown up in country Victoria but the 32-year-old sometime international lawyer and former CEO of the Mildura Economic Development Board says he has always had an interest in helping out the community no matter where he has lived.
"I made my home in Frankston last year and set up my own small business in agricultural exports but before that I've been the chief executive of an economic development corporation in regional Victoria as well as an international lawyer in Kosovo.
"Each of these roles are also ways in which I've been able to help the communities where I've lived at the time."
Mr Crewther, who earned a Masters degree specialising in International Law gained at the Australian National University in Canberra, had an early political awakening while at school in year 11 in Horsham when he attended youth parliament at Camp Manyung in Mt Eliza.
He was the unsuccessful Liberal federal candidate for Mallee at the 2013 election.
"I spent a lot of my time growing up in country Victoria and my wife Grace grew up in Blacktown in Sydney so she's a city girl at heart. In terms of a place to live this area is the perfect combination between the country, the city and the coast. It's a good place to raise a family."
The couple welcomed young daughter Yasmin to the family earlier this year.
The newcomer shrugs off rumblings about 'carpet-bagging' after winning the Liberal Party preselection contest to be the candidate for Dunkley, seeing off a strong field of seven other local candidates including former Carrum MP Donna Bauer and Kingston councillor Paul Peulich.
"It's quite a democratic process. We had 84 minutes of questions, a speech, about 200 delegates or so in the room to choose the candidate. There were eight strong candidates and each should be commended for being willing to put up their hand to represent this area," he told The News.
"In the end I won their support so I'm just getting on with campaigning."
Mr Crewther says he will "run a strong positive grassroots campaign to engage with the electorate" because "solutions are what people are really looking for as opposed to the politicking of the day".
"One key thing is delivering more job opportunities for Dunkley families and that's what I want for my family – not only job opportunities but meaningful job opportunities that give people a purpose in life.
"People want the best for their children and grandchildren no matter where they live in the world. Job creation would be my number one priority but linked in with that is investment in infrastructure because without infrastructure you can't connect people properly or help and grow businesses.
"Tackling issues such as the scourge of ice are also important in terms of giving people opportunities locally – particularly young people. You need to give them things to do, education opportunities as well as work opportunities locally."
He says he will draw on his experience in Kosovo, in the former Yugoslavia, when he helped return citizens' property to them after the late 1990s civil war there to have empathy for the less fortunate if he wins office.
"In Kosovo I was resolving property claims before an international tribunal for claimants who lost their property due to the war. By giving people their possessions back you're helping them get on with their lives."
Being a middle man in negotiations is a skill he's brought to his small business.
"My wife is originally of South Korean background so she has a number of connections. She grew up in Sydney from the age of three but she grew up in South Korea so she has a number of connections there with people wanting to import high-quality farming goods," he said.
"Given my country background and my previous role in economic development in regional Victoria I also have a number of connections with exporters who are producing those high-quality goods but aren't necessarily exporting to markets like Korea, Hong Kong and elsewhere. So the job primarily is linking those exporters with those importers. It's sort of a bridge role."
Mr Crewther hopes to perform a bridge role in representing Dunkley in Canberra.
"I'm part of a Liberal team that will form a Liberal government that will help to assist small business to grow the economy and actually tackle social disadvantage. But we're also a party that social and environmental issues as well. I think the economy, the community and the environment need to be considered in any development.
"I do have a say in this current government with Malcolm Turnbull."
Jobs for Dunkley residents is high on his political agenda.
"I'm really proud my wife Grace and I and our daughter live in Frankston. It's an area – that, if we have the right positive outlook as Bruce as done over the past 20 years – we can actually grow this area economically, socially, environmentally. There is a lot of potential in this area and creating opportunities for families will be my number one priority."
Mr Crewther said he intends to stay in Frankston after the election.
"If I'm unsuccessful I'll continue running my small business here and my home is here and my family is here. I don't see anything changing."