By LIZ BELL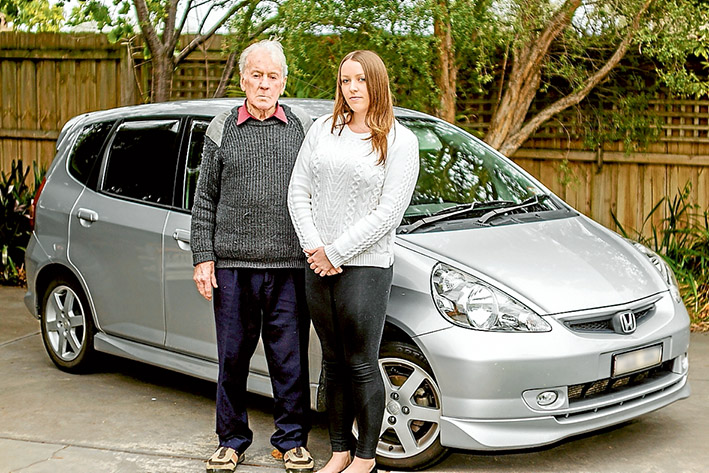 ALTHOUGH statistics show motorists have just recorded the lowest number of collisions for five years, the trauma for those involved in an accident can seem endless.
Court cases get settled and insurance claims paid out, but the memories and pain linger.
The ongoing impacts of road trauma is something Rye resident Geoff Greene is only too aware of.
Mr Greene didn't even see the driver coming up behind him on Point Nepean Rd, Rosebud in September, 2013, so wasn't able to anticipate the impact. By the time his shunted car came to a halt and he was able to turn his head, the driver who caused the rear-end collision had disappeared.
Although badly shaken and suffering severe bruising and a bleeding head injury, Mr Greene didn't feel the full effects of the accident until about one week later, when his ileac artery ruptured and he was rushed to hospital for emergency surgery.
"At that stage it was life-threatening and doctor said the accident would have brought on the rupture," he said.
Every day the 81-year-old is in pain because of the residual effects of his injuries, which are now exacerbated by degenerative changes.
His message to drivers is clear: "Just concentrate and pay attention."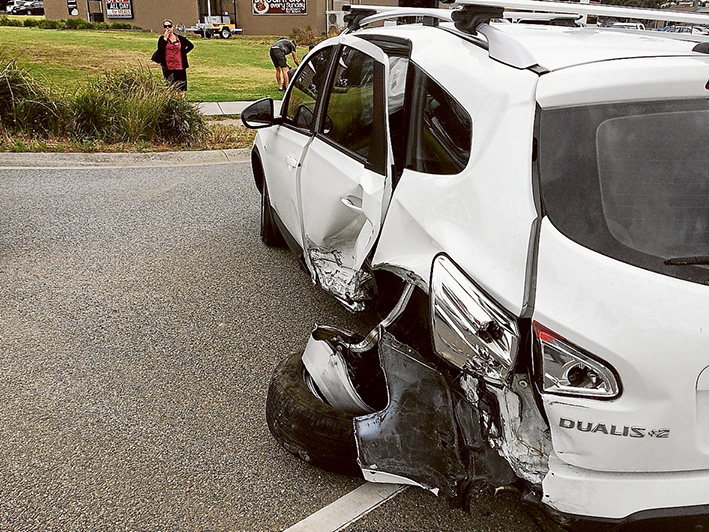 When Michelle Sheridan glanced in the rear-view mirror of her stationary car to see a vehicle hurtling towards hers, it just didn't occur to her that the driver might not stop.
But what happened next on that day in December changed her life and left the 33-year-old Langwarrin mother-of-three with lasting injuries, chronic pain and a terrifying vision that haunts her every day.
Ms Sheridan's car was struck from behind by another vehicle on the Cranbourne-Frankston Rd, Langwarrin, as she was on the way to pick up her child from primary school.
The impact instantly crushed her Nissan seven-seater vehicle and pushed it into the path of oncoming traffic. Despite being knocked out momentarily and injured, she regained consciouness just in time to escape from her vehicle before it was struck again.
Ms Sheridan was studying nursing at the time, but today she is unable "to function on a day-to-day basis", and is plagued by headaches, ongoing pain and muscle weakness. Worse still are the psychological effects of the accident.
"It was so traumatic that I didn't drive for 10 months and even now I can only drive short distances because of the anxiety,'' she said.
Ms Sheridan is still receiving counselling and medical care due to whiplash, back pain, daily headaches and tendon injuries, and said the impact on her family had also been significant.
"My husband was a mess when he found out, but he's very strong and has had to pick up the pieces and pull the family together," she said.
"And my children have also been traumatised by what happened to me, particularly my four-year-old who saw me in hospital."
Before the accident, Ms Sheridan was a "bubbly" confident person, but now regularly feels inexplicably "sad, angry and frustrated", and is struggling to make sense of what happened.
"I'm so upset at the way people drive, and I see it every day," she said.
"Nearly every second car I see there is a person looking down at their phone or not paying attention, it's frightening.
"This accident has changed my life 100 per cent and things will never be the same for me or my family.
"People think it won't happen to them, but you just can't say that."
A Langwarrin man has been charged by police and is due to face court over the accident.
---
Help on the road
Road Trauma Support Services is a not-for-profit organisation that promotes the safety and wellbeing of road users. It provides counselling and support to people affected by road trauma, and aims to educate road users about safe driving.
RTSSV spokeswoman Bronwyn Saville said the organisation was committed to educating the community and raising public awareness about road trauma and how it affected people's lives.
A spokeswoman for campaign sponsors Maurice Blackburne Lawyers, Andrea Petrie, said preventable road accidents made up a "substantial" part of the firm's work.
"Because of that we believe it's really important that the message of safety on the roads is heard," she said.
First published in the Southern Peninsula News – 17 May 2016