NEPEAN LEAGUE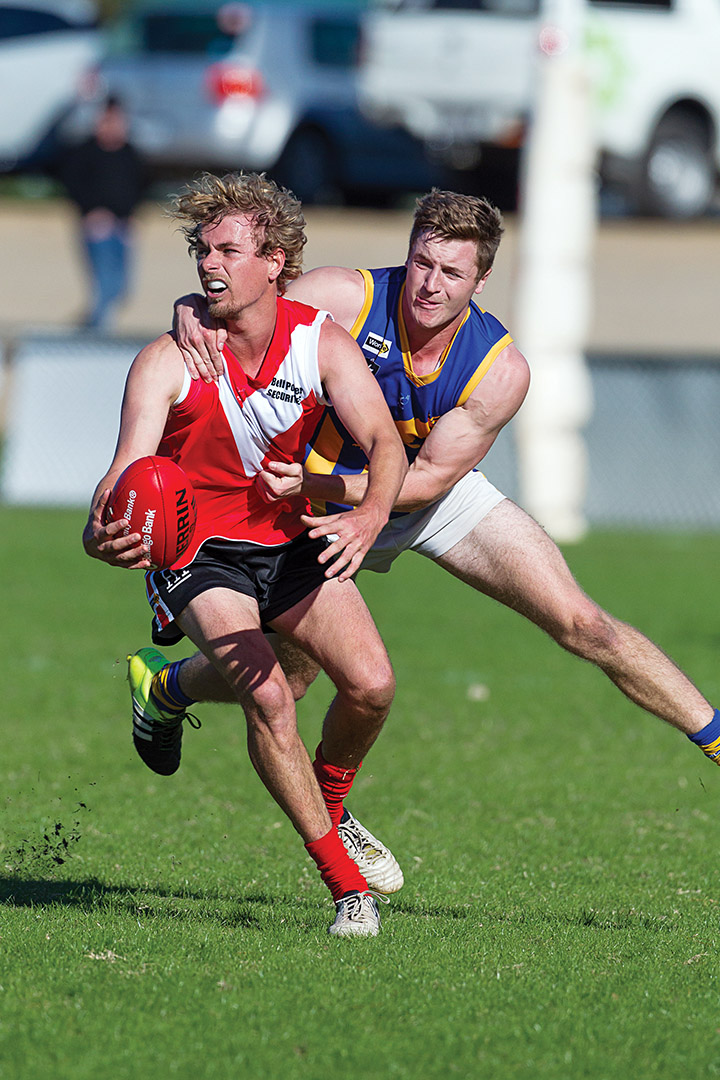 RYE are in real trouble after being thrashed by arch rival Sorrento in MPNFL Nepean Division football on Saturday.
On a day of celebration for the Demons as they embraced their 2006 premiership heroes on the 10th anniversary, the team on the field let down their past champions with a poor display.
The reality is Rye relies too heavily on their top end talent and don't have the quality at the bottom end to compete with the best in the competition.
If you can stop the influence of Adam Kirkwood, Ryan Mullett, Kris Bardon, Nathan Henley and Matt Greig, you win the game against Rye, simple as that.
Mullett, as silky and as graceful as he is, doesn't hurt the opposition, despite racking up 30 touches a week. Bardon was kept to less than 15 touches on Saturday due to the work done by Jack Falck. Henley got a little bit of it but most of it was off half back. Greig was starved of supply but was beaten by youngster James Brigden.
Adam Kirkwood was Rye's best player, doing an outstanding job on the dangerous Nick Corp, before moving into the middle when the game was already lost.
Dean Milhouse worked tirelessly for the Demons and James Appleford had a real crack all afternoon.
On the other hand, Sorrento were superb in the 21.16 (142) to 13.6 (84) demolition.
Luke Tapscott got the Sharks going with two first quarter goals playing as a forward. He finished with five and more than 25 possessions to be awarded best on ground.
Ryan Williams comfortably won in the ruck for the visitors and Zac Byrns roved to him perfectly, dominating the clearance work.
Where Rye relies on its top end, it was hard not to notice Sorrento's lesser likes.
Chad Harris booted three goals and along with Danny Stephenson, didn't mind getting into the heads of the opposition, despite their inexperience.
Max Gardner and Shannon Gladman each had plenty of it and Jack Grant is simply a left foot version of his older brother Daniel, with a little more size.
If these half a dozen players, along with Brigden, are the 'bottom end' players at Sorrento, they are in for some exciting times.
They are all classy movers, composed and ready-made senior footballers. There are also at least another three Under 19s that could make their mark this season.
The more experienced Ryan Potter, Tyrren Head and Brent Kenyon all dominated in the back half and Scott Lockwood was back to his vintage best for Sorrento, jumping and marking the footy. He played deep later in the game and looked a lot more dangerous within range.
Red Hill took its biggest scalp of the season, carrying on from its last quarter onslaught last week (against Rye) to beat Somerville.
After last week's performance against Hastings, Somerville looked head and shoulders above any other team in the competition.
However, with a bit of homework from the coaching team and some execution from the playing group, Red Hill's performance again highlighted how even this competition is.
Nick Walsh, Mitch Wallace and Josh Siverson got the jobs on Tom Shaw, Ben Crowe and Luke Rowe and all of them won those battles.
Harry Larwill played a forward defensive role on Scott Simpson and kept him quiet while booting three goals himself and Dan McNamara provided plenty of run and drive.
The Hillmen opened up an 18 point lead in the second quarter and went on to win by 31 points, 12.13 (85) to 8.6 (54).
Two things Somerville has to focus on in the next few weeks – do everything to get Lachy Williams back from Box Hill and find themselves someone with experience to run the bench.
A couple of weeks ago, Tyabb appeared to be building towards its first win. It went off the rails a little last week against Crib Point.
On Saturday, the Yabbies found their mojo against Pearcedale and went within two points of finding their first win in years.
Tyabb were level with Pearcedale at quarter time, led by nine points at half time and by one point at the last change.
When Ethan Rahilly booted the first goal of the last quarter, the Yabbies looked like they may cause an upset.
However, two goals in two minutes midway through the last to Pearcedale's Zach Campbell and Glenn Anderson saw the home side take a five-point lead.
The Yabbies peppered the goals in the back end of the last quarter but couldn't find them, finishing with six behinds in the last, one of which came after the siren in a kick that could have  won them the game.
Pearcedale coach Jamie Merchan said "Tyabb deserved to win the game".
"They should have won. Their pressure was outstanding and there's no doubt they were the best side on the day," Merchan said.
"If they (Tyabb) can keep up that level of pressure for the rest of the season, I have no doubt a win is not too far away. Mark Paganoni and his team should be very proud of themselves."
Troy Jacobson and Ben Mitchell were the difference between the sides for the Panthers while Jake Anderson with five goals and Tyson Sparkes, who was back into the Tyabb side, got their top votes.
Devon Meadows led Rosebud by ten points at half time before the reigning premier booted seven goals to two in the second half to win 9.11 (65) to 6.12 (48).
Keegan Downie was again the star with three goals while Ben Dwyer dominated in the middle of the ground.
Meadows' skipper Jesse Dehey was his side's best, along with Joel Hillis.
Hastings bounced back nicely against arch rival Crib Point, winning 12.15 (87) to 5.8 (38).
The Blues got off to a solid start but couldn't shake off the Pies until the last quarter, where they booted seven goals to one.
Nick Gray with three goals, Pete Mawson and Shaun Foster were the best of the Blues while Kain Stratton and Brad Davidson shone for the Magpies.
Frankston Bombers sit in third place on the ladder after a 13.16 (94) to 10.13 (73) victory against Dromana.
The Bombers led all afternoon with Dale Sutton and Sam Fox dominating.
The Tigers are now second bottom on the ladder and little hope of playing finals, despite the good efforts on Saturday of Sam Guerts and Billy Quigley.