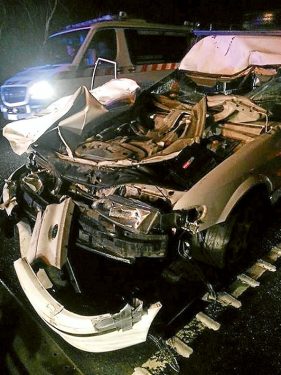 A HASTINGS father says his son and his girlfriend are lucky to be alive after their Ford panel van hit two cows on the Frankston-Flinders Rd, Hastings, early Monday 9 May.
The couple was driving home, 12.20am, between Western Port Highway and Graydens Rd, when their car hit the black cows, which they said were standing side on and virtually invisible in the dark.
"Ben, 21, and his girlfriend, Courtenay, were doing 85 kilometres an hour and just didn't see the cows and I don't know how they survived," Glenn Jansz said.
"The weather was bad with low visibility and there may have been a hole in the fence where the cows got through."
The couple was taken by ambulance to Frankston hospital but cleared of any injuries and glass cuts and were released later that day. "It would certainly have been upsetting if they had been badly injured," Mr Jansz said.
Sergeant Bruce Buchan, of Mornington Peninsula Highway Patrol, said one of the cows, which crashed through the windscreen, was then knocked 20 metres by the impact and killed. The other was badly injured and later put down by a Mornington Peninsula Shire ranger.
Ben, a musician, copped most of the impact but escaped uninjured. "If someone had been sitting in the middle seat, they would have been killed," Mr Jansz said.
"The cow hit the windscreen full on and then did a tumble turn and ended up in the roof rack. Their car is a write-off.
"It is such a dark area, raining and with low visibility, that Ben had already slowed down. Some nice people in a following car, who stopped to help, said they saw sparks up ahead when the accident occurred."
Mr Jansz was still emotional later in the week. "When you see the damage it's pretty obvious that they [his son and girlfriend] should not be here," he said Friday. "The road should have lights; it's too dark.
"Even when we arrived and the cow was on the road and other cow had wandered off only 15 metres away it was hard to see them."
Sergeant Buchan said there would be no further police action, although the owner of the cows may be contacted by the shire.
The shire was "aware of the accident", media manager Mark Kestigian said. "Charges would be a matter for the police."