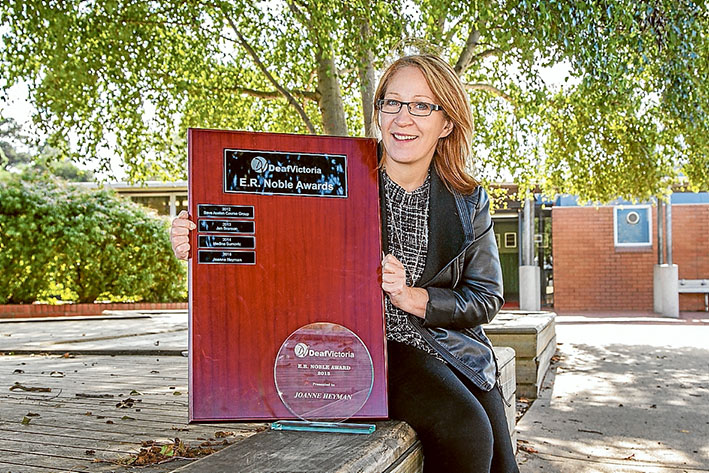 A BITTERN woman who spends her spare time raising community awareness of women's cancers, the plight of deaf dogs, and singing in her primary school's choir, has won the E R Noble award for Deaf Victorian of the Year.
Teacher Joanne Heyman became involved in the Ride to Conquer Cancer in 2012 and has helped her team raise $42,000 through the 200km event. She has helped raise a further $22,000 through the Peter Mac 60km Walk to End Women's Cancers over the past three years. She will also participate in a 30km walk in October.
Ms Heyman has also raised $5000 in funds and supplies for Hear No Evil – a deaf dog rescue and re-homing service. She is one of two Victorian coordinators who help to foster, train and re-home deaf dogs, saving them from being euthanised "simply because they are deaf".
Partner Andrew Broom is in awe of her capabilities: "I'm biased of course, but the work she puts in via fundraising, barbecues, selling chocolates, promoting and participating in events, raising community awareness of these issues, and the work she puts in to her local community, is inspiring," he said.
But Ms Heyman plays down her achievements: "Becoming involved in the plight of deaf dogs with me having a hearing impairment was a definite connection," she said.
"Why put them down just because they are deaf?"
Being alerted to the dogs' plight on Facebook spurred her interest and, the "next thing I knew, I was Victorian coordinator," she said. "We know we have saved about 100 dogs. There would be a lot we don't hear about because many would be given away or put in pounds."
In a similar vein, a friend's battle with ovarian cancer and her mum's tussle with breast cancer prompted Ms Heyman to take up that fight to raise money and recognition of their plight.
Ms Heyman sings in the Auslan Choir, and laughed about a "cheeky dinner" at which those learning the sign language are "taught to swear" using their hands – all in fun, of course.
She was nominated for the E R Noble award by friend Marnie Kerridge and received a trophy and had her name inscribed in a plaque.
A special memory is being involved with Pearcedale Primary School choir when it was recognised in last year's ANZAC day 100th anniversary ceremony at Frankston oval. She also translated English into Auslan.