CRIB POINT FNC
By Jared Newton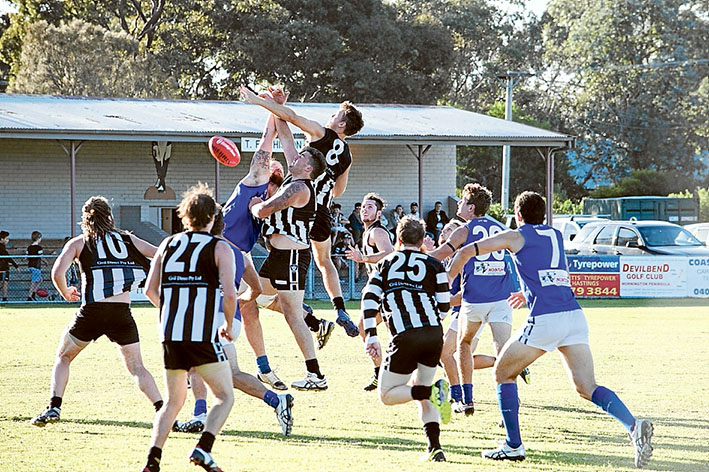 CRIB Point remains winless at home but certainly lost no respect in their clash against Hastings on the weekend.
In a game that was tight for three and a half quarters, a flurry of late goals from Hastings put a gap between the two sides as Crib went down by 49 points.
Defensive pressure isn't the problem, it's the avenues to goal which were again hard to come by  for the Pies who could only manage five goals for the game in blustery conditions.
Luke Herrington wound back the clock with a great game through the middle and up forward and Kayne Stratton put in another great game in the last line of defence and is fast becoming Crib's most consistent player.
At 1-5 it's not a great position to be in leading into the bye but there is some good football being played in patches and with a bit of luck with injuries over the coming weeks there's no reason why the seniors can deliver a few wins in the coming weeks.
The ressies continued their good form with a solid 30 point win over the Hastings Twos in the midday game.
In what was a scrappy, tough affair, the reserves prevailed with a 2.11 to 1.3 second half to keep the game out of reach.
The hallmark of the ressies side is their defence who only conceded two goals for the day. Lee Koerner was best on yet again in another polished performance across half back. Danny Vercoe, Mitch Davis and Luke Conway were also among the better players providing plenty of drive all day in difficult conditions.
At 4-2 the reserves are in great shape and the biggest problem facing the side is how will 28 players fit into 22 moving ahead. Some hard calls will need to be made over the coming weeks.
Barn's charges continued their good form to move to 4-2 with a solid 49 point win over Hastings.
The unders started slowly again in a tight opening quarter but it was all one way traffic after that as Will Larkin, Joel Wisken and Jayden Deas led the way to put the game beyond doubt by three quarter time.
Going into the bye the unders are sitting nicely at 4-2 themselves. They have the cattle to go a long way if their discipline holds throughout the year.
NETBALL
Our girls were covered in pink as they took the court on Saturday against Hastings.
Our C grade team got the day off to a flying start with a massive team win.
Coach Leah Moncrieff was able to trial many new combinations and the girls came together to put on a great performance.
Ayla Gallageher was brutal in defence, taking opportunities away from the Hastings attack line all day.
In B Grade our girls got off to a great start, winning the first quarter 17 to 4.
The lead again presented opportunities to work with different combinations and players stepped up in unfamiliar positions.
Hastings do not field an A Grade or Under 17's team so we were able to hit the showers early and head back to the rooms to celebrate pink round with our Ladies Day High Tea.
Thank you to all that attended and donated money or raffle prizes. It was a successful event and managed to raise over $2,900 for the Breast Cancer Network Australia.
The girls will be straight back in to some tough training sessions now in preparation for a tough round in two weeks against Somerville.