SOCCER
By Craig MacKenzie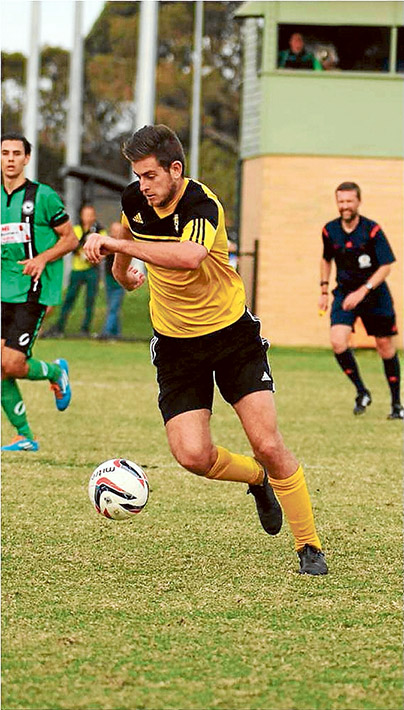 BAXTER'S bubble burst in a spiteful State 5 top-of-the-table away clash against Rosebud Heart on Saturday.
A melee erupted just before half-time and threatened to spill into the crowd until the warring parties were kept at bay and order restored.
When the dust settled Baxter striker Mark Pagliarulo and midfielder Liam Kilner were red carded and during the half-time break referee Neil Byrne confirmed that they had been dismissed for violent conduct.
This was a much anticipated clash between the only teams in the league with perfect records in 2016 and it took a controversial goal by Heart marksman Dave Greening in the 44th minute to bring the simmering dislike between these local rivals to boiling point.
Heart took an early lead when Craig White was presented with a point blank header in the 15th minute but Daniel Disseldorp levelled in the 26th minute with a low shot inside the far post.
A ball over the top to Greening in the 44th minute presented him with a tap-in past onrushing Baxter custodian Daniel D'Alfonso to make it 2-1 and triggered an animated response from the Baxter players and bench claiming that Greening was offside.
This led to the dramatic scenes that followed and Baxter's mountain took on Everest proportion two minutes after the interval when it failed to clear following a corner and White smashed the ball into the roof of the net from a few metres out to make it 3-1.
But Baxter's character shone brightly as the nine men clawed back to 3-2 thanks to a Disseldorp header in the 64th minute.
However, their effort was in vain when a deflected long-range attempt was tipped onto the bar by D'Alfonso only for the rebound to present Daniel Hodge with a simple close range header for the sealer.
Mornington kept its perfect State 1 South-East record intact with a 2-1 home win over Berwick City on Saturday.
Shane Tagliaferro broke the deadlock with a 37th minute penalty conversion after he was fouled inside the area.
In the 59th minute Nick Waite challenged the Berwick keeper in the air and the ball struck a defender and went in for an own goal to make it 2-0.
Berwick hit back in the final minute courtesy of another own goal.
New Mornington signing Brad Blumenthal made his debut coming off the bench for Waite in the 60th minute.
Waite and Chris McKenna will be unavailable for the next two games due to a prior commitment – a two-week holiday in Bali.
Langwarrin won its third league game of the State 1 South-East season with a 6-3 victory over Mooroolbark at Lawton Park on Saturday.
Caleb Nichols and Koray Suat put great pressure on the Mooroolbark defence resulting in an own goal after only four minutes.
Berwick hit back in the 25th minute when Sean Perrin slammed home the equaliser after a goalmouth scramble.
The visitors then hit the lead in the 41st minute when Liam Killen scored from a rebound after Robbie Acs pulled off a fine reflex save.
However, Langy levelled two minutes later when Brandon Giles scored his debut goal when he swooped to poke home a cross that had been headed down by Nicholes.
Berwick's Liam Seaye turned in the six yard box after the Langy defence failed to clear another corner and he hit the ball past a static defence to make it 3-2 in extra time in the first half.
Prolific Langwarrin scorer Nicholes equalised with a diving header after an inch-perfect cross from Boris Ovcin in the 51st minute.
Nicholes scored again 10 minutes later with a shot on the turn after fine build-up play from midfielder Sam Scott.
Scott got on the scoresheet in the 67th minute when his long range free-kick finished up in the back of the net from 40 metres out while Nicholes notched his hat trick and completed the scoreline in the 92nd minute.
Frankston Pines lost 2-1 at home to high-flying Malvern City in their State 1 South-East fixture on Saturday but made the more fancied visitor fight hard for the points.
Corners in the 37th and 69th minutes led to headed goals by Michael Knott and Adam Sworonski respectively while Pines striker Ioasa Saemo's 85th minute header following Elvin Prasad's corner was too little too late.
Harry McCartney reports that Seaford United had to settle for a 3-3 draw at home against Doncaster Rovers on Saturday.
This State 2 South-East clash burst into life after two minutes with a diving header from Seaford's Dylan Waugh after a cross from Li Nam Wang.
But 10 minutes later handling inside the area by Andy Baros resulted in a penalty converted by Doncaster's Michael Santoro.
Another Waugh header four minutes later made it 2-1 but big Gino Defeo equalised for Doncaster in the 23rd minute following a fine build-up.
The visitors hit the front in the 65th minute following a superb strike by Alex Metcalfe but that effort was matched in the 91st minute by Seaford's Tristan Stass for a share of the spoils.
Peninsula Strikers went down 3-0 away to promotion candidate St Kilda on Saturday the home team's goals coming from Connor Gaul (34th minute), Ronan Smalle (67th minute) and Daryl Warren (78th minute).
Skye United maintained its lead at the top of State 4 South by thrashing cellar dweller Lyndale United 8-2 at Skye Recreational Reserve on Saturday afternoon.
Billy Armour's side raced out to a 6-1 lead at the break thanks to a first-half hat-trick from new signing Alex Roberts.
Arriving from Seaford United, the former Bentleigh Greens Under-20s forward completed his hat-trick within half an hour, in between a sublime effort from Mark O'Connor and an own goal.
Lyndale was able to breathe life into an unflattering first half via a deflected cross but Skye added its sixth on the stroke of half-time in similar circumstances with Billy Painting's strike finding the back of the net via a defender.
Skye maintained its dominance after the interval with leading goal scorer Daniel Attard nabbing a brace before the visitors added a late consolation.
NEXT WEEKEND'S GAMES
Friday, 27 May, 8.30pm: Casey Comets v Mornington (Comets Stadium).
Saturday, 28 May, 3pm: Frankston Pines v Clifton Hill (Monterey Reserve), Warragul Utd v Langwarrin (Baxter Park, Warragul), Peninsula Strikers v Beaumaris (Centenary Park), Noble Park Utd v Seaford Utd (Parkfield Reserve), East Brighton v Skye Utd (Dendy Park), Baxter v White Star Dandenong (Baxter Park), Sandown Lions v Rosebud Heart (Ross Reserve).