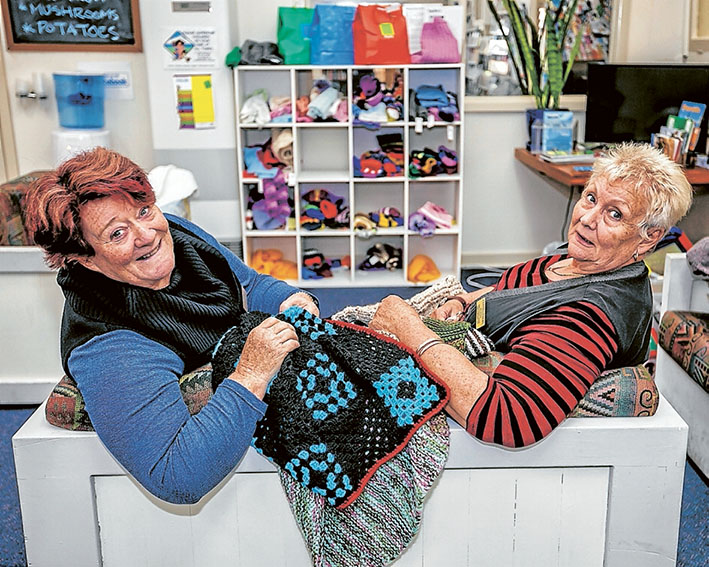 AN impressive donation of knitted goods from Knit One Give One has thrilled members of Southern Peninsula Community Support and Information Centre.
The assorted knitted goods for adults, children and babies includes beanies, scarves, blankets, toys, and even socks.
The centre gives the items to those attending programs who are in need of some winter woollies.
"The quality of these knitted items is amazing," program coordinator Robyn Coughlin said.
"The skill required to make them is remarkable, and people receiving them feel very cared for."
A group of local knitters – the Dromana Knitting Angels – help out, too. "The kindness of these very talented knitters is inspiring," Ms Coughlin said.
"Recipients have commented on how wonderful it is that someone they have not met would want them, or their children, to have something so beautifully created. This is especially important to those who have no family connection."
The centre at 878 Pt Nepean Rd, Rosebud, offers a wide range of community services. "We are here to help local residents who need it.
"If someone is not sure where to go and what is available, or are experiencing financial or personal difficulties they can come to us," Ms Coughlin said.
Started in 2004, Knit One Give One is a not-for-profit organisation that asks volunteers to donate time and wool to knit warm winter woollies that it distributes to 250 community groups.
"I sometime find myself overwhelmed that people have put so much love and work into something that is to give away to someone they don't know, but they just want to help," said Ros Rogers, the founder and coordinator.
"We're always looking for more knitters who can help us by creating knitted scarves, beanies, children's toys or blankets."   
Details: Call 5986 1285 or email admin@spcsic.org
For details on Knit One Give One, call 0409 438 603 or email info@kogo.org.au
First published in the Southern Peninsula News – 24 May 2016