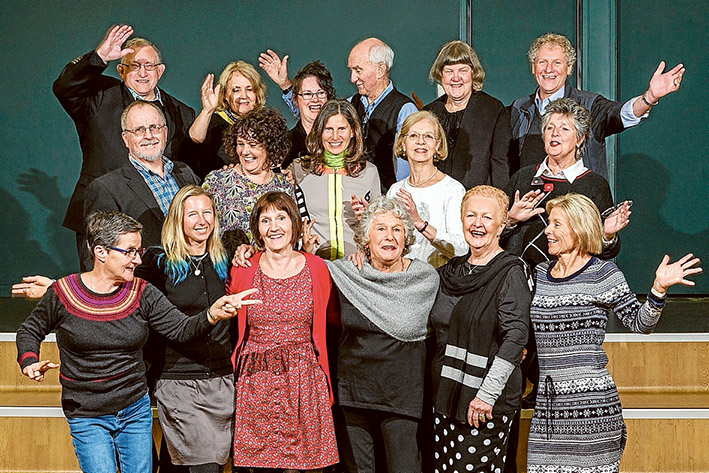 MORNINGTON Peninsula Chorale members will hit the high notes in New York next year.
They have been invited to perform at Carnegie Hall in January with composer Sir Karl Jenkins.
It is the trip of a lifetime for the choristers now need to raise the money for their travels.
They will join other choristers from around the world to form the Distinguished Concerts Singers International, with Sir Karl composer-in-residence, and artistic director Jonathan Griffith as conductor of the performance.
The venue will be the Isaac Stern Auditorium, Carnegie Hall.
"We are seeking funding from all government levels, and exploring all other avenues of fundraising to help us reach New York," member Jennie Boux said.
"We are currently gathering letters of support to enhance our funding applications."
The invitation came about after the chorale performed Sir Karl's Armed Man at Frankston Arts Centre last year for the Anzac Day centenary celebrations.
Senior member Judi McKee wrote to Sir Karl who invited the chorale to audition for a performance. They sent an audio-visual tape over – he loved it – and New York is now in the offing.
"They were really delighted with the audition tape and said they definitely wanted us to come over and join them," she said. "We had to be of a certain standard and it appears we measured up. It's going to be a wonderful trip and it's a really exciting time for the choir.
"It will be a whole new experience.
"We will benefit from singing in such a wonderful location and walking in the footsteps of famous names at such as illustrious venue."
She said the choir came from humble beginnings in 1979. Its 93 members each year perform an oratorio and proms concert with Frankston Symphony Orchestra, as well as a Christmas concert. In recent years the chorale has been invited to perform on Anzac Day in Frankston.
Choir director Tom Buchanan had taken the choir to "the next level", Ms McKee said.
"Our aim is to be a choir where adults enjoy a diverse choral experience, as well as developing and improving their musical and vocal skills.
"We also seek to broaden public interest and appreciation of chorale music and encourage local talent, and foster community spirit by networking with other choirs to enrich and extend the choral tradition."
Rehearsals are held Tuesday evenings at Woodleigh School, Minimbah Campus, Frankston South, with accompanist Heather Wickes.
The choir is made up of mainly sopranos, followed by altos, then tenors and bass singers.