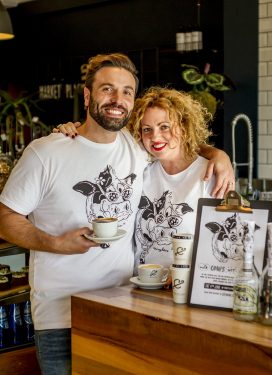 CAFE owners across the Mornington Peninsula and Frankston are rallying to help Victorian dairy farmers under financial strain from an unprecedented drop in the price of milk after Australia's two biggest dairy companies slashed farmgate prices.
A trio of community-minded activists under the banner of the Mornington Peninsula for Dairy group – Sam Keck, Josh Brown and Lisa Brassington – aim to raise at least $10,000 with the help of small cafe businesses across the state who will donate $1 from every milk coffee sold on a 'Dairy Day' tomorrow (Saturday 4 June).
Customers can also buy limited edition Snake Hole designed 'milk cows not farmers' T-shirts for the next few weeks at the cafes supporting the group's #MPDAIRY campaign.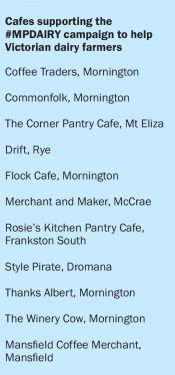 "We have partnered with the CUA credit union and the team behind Facebook community 'Show some #dairylove' and with Victorian regional farmer relief centres to distribute funds raised," Ms Brassington said.
The group hope the #MPDAIRY project makes people think about where milk is produced since "milk is the forgotten ingredient in coffee – surveys show that 95 per cent of coffee consumed in Victorian cafes is with milk so we owe our dairy farmers a lot".
Coffee lovers who cannot make it along to one of the many cafes supporting Victorian farmers on Saturday can buy a T-shirt at gofundme.com/mp4dairy online.
MP4DAIRY aka Mornington Peninsula for Dairy is an unincorporated, not-for-profit, non-tax deductible donation fundraiser.
All profits will ultimately go to Victorian dairy farmers, as Ritchies IGA storecards, to help them get through tough financial times.