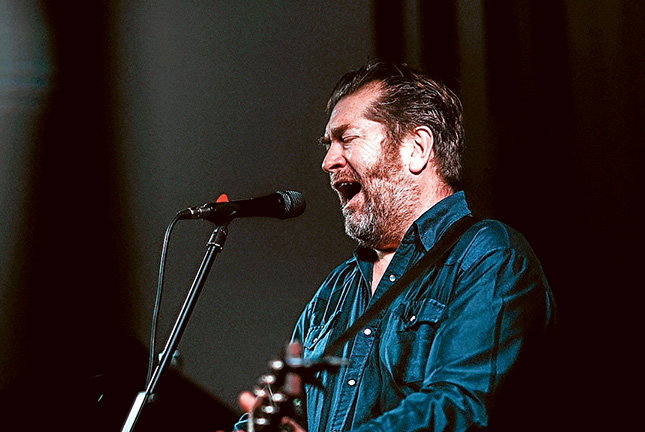 "Mick Thomas has some secret magic to his writing… he surely can write great songs that make you say "Why didn't I think of that?" but of course we never do.
He writes about mates, ratbags, races, places, weddings, parties, funny stuff – anything – but they are really good stories and great songs. Mick is truly a legend around the best of fair-dinkum roots venues and festivals around the country.
He is a character! He is funny! He will talk the leg off an old chair and play the arse off a guitar, sweat the shirt of his back and lay you in the aisles.
At the end of 2012 when Mick announced that Weddings, Parties, Anything would be using the Melbourne Age Hall of Fame induction as a farewell platform there was an understandingly large outpouring of emotion on his facebook page as the fans struggled to come to grips with the finality of the occasion.
And amongst this litany of loss and professed loyalty came one solid voice of reason (and acerbic wit) from Melbourne percussionist Ray Pereira telling Mick to 'get over it and to stop living in the past'. It was brutally funny and somehow appropriate in terms of the gravity which many attached to the situation.
And when the dust had settled from the awards night ultimately all that was left was the knowledge that there are new projects to go to, tours to plan and songs to write. Music to be made.
His ever evolving talents as a writer and performer and racontuer continue to define a career as intruiging as it is enduring.
Special guest at The Grand Mornington (Friday 29 July 2016) will be Rich Davies and The Low Road will peel back the skin of rock'n'roll to expose Old-Time Folk, Americana and Celtic bones.
Anyone who has witnessed just how quickly a ticket to Mick's shows can sell out will know to get in quick!
www.mickthomas.com  |  www.facebook.com/MickThomasMusic
Tickets from www.grand.net.au or call (03) 5975 2001