SOCCER
By Craig MacKenzie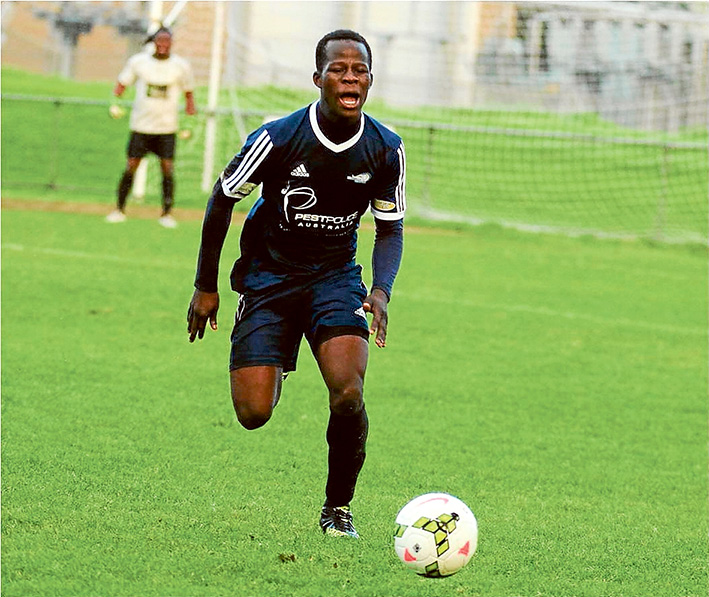 MORNINGTON'S march towards a second successive State 1 South-East title continued at the expense of Frankston Pines at Dallas Brooks Park on Saturday.
Wayne Gordon opened the scoring in the 25th minute and three minutes later Shane Tagliaferro's deflected shot fell for Northern Irish import Sam Stewart who tucked it away from eight metres.
Another deflected Tagliaferro strike in the 68th minute lobbed up for Paul McEvoy to head home and a fine free-kick by Chris Reid in the 71st minute stood despite Pines' protestations that it was indirect.
Kane Bentley grabbed a late consolation for Pines to complete the 4-1 scoreline.
Mornington youngster Jack Heseltine was the victim of a head clash in the second half and was taken to hospital but escaped serious injury and was released late Saturday night.
Langwarrin continued its recent dominance over Berwick City with a 5-2 win in their State 1 South-East encounter at Lawton Park on Saturday.
Ex-Langy player Steve Vernon broke the deadlock in the 24th minute after being put through by Orlando Mejias but four minutes later Langy equalised when a Josh Calle cross from the left was headed in from close range by Koray Suat.
Langy midfielder Grant Lane made it 2-1 when he slammed the ball past Berwick keeper Jeremy Figler in the 65th minute after Berwick failed to clear from a long throw-in on the right.
A minute later Langy substitute Nabil Mozaffaruddin rose high to power a firm header past Figler.
In the 77th minute big Caleb Nicholes became a nominee for the scorer of the finest solo goal ever seen at Lawton Park when he skinned four opponents on the left then jinked past Figler and from a tight angle slotted the ball home to make it 4-1.
Nicholes used his strength to hold off a defender then broke clear in the 84th minute and struck home his second to make it 5-1.
Berwick substitute Alph Turay skipped clear four minutes later and finished in style past advancing Langy custodian Robbie Acs.
Veteran midfielder Chris Driver has returned to Langy from Endeavour Hills Fire to help ease an injury and unavailability crisis and he slotted in to the sweeper's role.
In recent weeks the club's walking wounded has included Alex Van Heerwarden (hamstring), Nick Thorogood (hamstring), Owen Kilner (knee), Callum Khaiyath (hip), John Guthrie (knee), Suat (knee) and Mozaffaruddin.
Anthony Selemidis is away for three weeks on a business trip, Brandon Giles will be available to face Casey Comets on Friday then misses the next four weeks while attending the Euro Championships and Kurt Goldsworthy is expected to miss a game in July while attending a music festival.
Harry McCartney reports that Seaford United lost 5-1 at home to title-chasing Old Scotch in their State 2 South-East fixture on Saturday.
A 6th minute goal from William McLellan put Old Scotch in front but Seaford didn't let them have it all their own way.
The first half finished at a gripping pace with both sides peppering the goals with end-to-end football.
Both teams started the second half in similar fashion and the Seaford faithful had reason to believe they were in with a chance of knocking over the league leader.
But Kurt Emery killed the dream with a strike in the 58th minute and teammate Sam Shearer floated a ball into the top corner of the Seaford goal in the 72nd minute to make it 3-0.
Dylan Waugh got on the scoresheet for the home side in the 84th minute but by then the damage had been done.
An attempted sliding save by Seaford defender Chris Sibson in front of goal in injury time saw the ball run up his body, brushing his hand and leaving the referee with little option but to award a penalty and send the defender off with a straight red card.
Graham Evans converted from the spot then substitute James Warne added to a flattering scoreline minutes later.
Seaford now sets its sights on the upcoming derby showdown with Peninsula Strikers who slumped to a 4-0 away loss to championship contender Caulfield United Cobras last weekend.
Caulfield's goals came from Denis Botvenev (8th minute), Michael Johnson (31st) and Steve McRae (38th and 61st).
Strikers started the season eyeing promotion but the rot set in after a round 5 home loss to Doveton and the side now has lost six in a row.
Skye United lost for the first time this season going down 3-2 to visitor Keysborough on Saturday but still sits on top of State 4 South.
The deadlock was broken in the 28th minute when new Skye signing Marco Elhassan was brought down inside the area and Skye captain Mark O'Connor slotted home the resulting penalty.
Keysborough equalised right on half-time with a cracking long-range drive from Mert Sakranlioglu.
Keysborough struck twice in a couple of minutes in a physical second half with goals from Alex Tang and a second for Sakranlioglu before Billy Painting scored to make it 3-2.
Skye applied the pressure and chances fell to Michael Putson and O'Connor but to no avail.
Rosebud Heart remains the only team in State 5 South with a perfect record after a 1-0 away win over East Bentleigh last weekend.
Goalscoring machine Dave Greening settled the issue in the 70th minute with a left footed volley into the top far corner.
Arch rival Baxter slipped behind in the title race when it drew 2-2 away against Pakenham United on Saturday.
Todd Burt (38th minute) and Stefano Rischitelli (49th) scored for Pakenham while Baxter's marksmen were Paul Swan (40th) and Rhys Wilson (61st).
Baxter's Owen Kilner received a straight red card for violent conduct early in the second half when the scoreline was 1-1.
NEXT WEEKEND'S GAMES
Friday, 10 June, 8.30pm:
Casey Comets v Langwarrin (Comets Stadium).
Saturday, 11 June, 3pm:
Frankston Pines v South Springvale (Monterey Reserve)
Malvern City v Mornington (Kooyong Park)
Peninsula Strikers v Seaford Utd (Centenary Park)
Endeavour Hills Fire v Skye Utd (Power Reserve)
Rosebud Heart v Dandenong Warriors (Truemans Road Recreation Reserve)
Sandown Lions v Baxter (Ross Reserve)