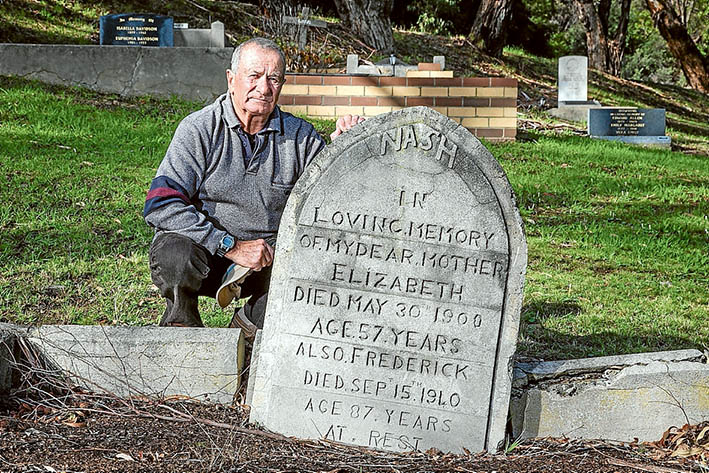 A MAN with a passion for history is keeping the memories of our ancestors alive.
Ray Gibb, of Rosebud, has a special focus on Victorians generally, and Mornington Peninsula pioneering families up to 1940, in particular.
Many are buried at Dromana cemetery – but the fact that a number were interred without headstones makes researching their backgrounds difficult.
Sources of much of his material are the web-based research site Trove, the former newspaper The Australasian 1864-1946, and real estate directories of the day showing who bought what, where and when.
A more modern source of information is social media, in which Mr Gibb holds extensive "conversations" with relatives about their forebears and "sets the record straight" on who was born where, when, and to whom.
Oh, and then there's the small matters or where they lived, worked, died and were buried. The reward for Mr Gibb is when all the pieces fall into place, making his efforts worthwhile.
Deteriorating gravestones, vandalism, and the ravaging effects of bushfires on cemeteries as far back as 1939 has meant many records have been lost, and death notices in old newspapers are often scant in details.
The mystery behind people's histories continues until dogged persistence by sleuths, such as Mr Gibb, puts the pieces of the puzzle together.
Mr Gibb sought public help in writing a dictionary history of the Mornington Peninsula several years ago, which includes historic origins of street names.
"Some names, such as Burdett and Godfrey, can be tied to a family but most cannot," he said in a letter to a Sunday paper several years ago.
"If any descendant of a pioneer or developer can supply information behind streets bearing people's names, I would be grateful.
"I would also like information about pioneers and family connections not mentioned in previous histories and types of farming."
It's this persistent detective work, and a never-ending quest for facts, that makes his work valuable to his community. "In cemeteries that have suffered less damage, records on the internet give little detail about the deceased other than father/mother/wife/husband/son/daughter of but, inspired by my history buddy, Val Wilson's website on pioneers buried in the Moorooduc/Mornington Cemetery, I embarked on extending the records for pioneers and long-time residents buried at Dromana," Mr Gibb said.
"I decided to provide much more information, such as the maiden names of married women. A funeral (if inserted) and death notice is provided for each burial and obituaries for some.
"The next burial I'll be doing is that of Mrs Sarah Spencer Matthews, wife of Dromana carpenter James Matthews whose ancestor, Sarah Wilson, was on Jamieson's Special Survey (Safety Beach area east to Bulldog Creek Rd) by 1855.
"The ancestry of Sarah Wilson (buried 10-12-1943) will be traced back to Sarah Wilson with the aid of my notes from Petronella Wilson's 'Giving destiny a hand'."
Mr Gibb is involved with the Pioneers of the Mornington Peninsula group which records the first century or so of white occupation, especially relating to those who have not been mentioned elsewhere.
It includes photographs, with the details of those featured, location and year, and anecdotes, or poetry, not found on Trove.
"Other purposes are to document change, to preserve our heritage and bring family historians with a common focus, or even old mates, together," Mr Gibb said.
First published in the Southern Peninsula News – 7 June 2016