CRIB POINT FNC
By Jared Newton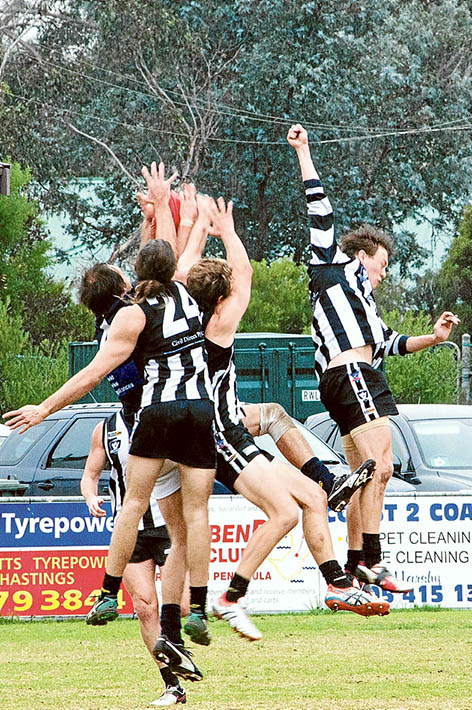 CRIB Point's season continued in pretty familiar circumstances in an 84 point loss to Rosebud at Crib Point.
The Pies were pretty competitive early but fell away badly as Rosebud piled on 12 goals to 2 in the second half.
Positives were pretty thin for the Pies on Saturday as it was a really flat performance. Zack Condick gave a lot up forward and Tyler Wilton was a real positive in the ruck after Zak Dekleuver went off injured but aside from that it was a dirty, dirty day for the Pies and one they're better off forgetting.
The reserves floated in and out of their game against league leaders Rosebud to go down by 55 points.
It was a promising start for the Pies who went into the first change a point up before falling away in the middle two quarters only to get their act together late in the game after the sting had gone out of it.
Lee Koerner had another great game off half back, so too did Cal Campbell. Neil Clark also had the mitts out and snagged three from Full Forward.
There's no doubt the reserves best footy is finals worthy. The issue is their worst footy isn't and it'll depend on which team turns up for the games in the second half of the season.
Like the seniors the 19s put their worst performance up for the season on Saturday and could only muster one goal against a side they are fighting for 5th spot with.
Ethan Smith continued his good form with a BOG performance but it wasn't enough as the undermanned unders went down by 90 points.
Netball by Lily Hibbert
They were soggy conditions on Saturday for our round 8 clash against the up and coming Rosebud.
The Under 17's were put through their paces and rose to the occasion, playing some of their best netball of the season. A great team effort was made and the scoreboard did not reflect the quality that we brought.
Our seniors showed up, all guns blazing after a tough training session on Thursday night.
C Grade were strong defensively yet again, Ayla Gallagher starring in the GK position. In offence the girls thrived and each team member played their role. With girls out due to sickness, other players stepped up and contributed to a great team win.
After suffering a 3 point loss to Somerville last round, B Grade put in a solid four quarter performance to take down an aggressive Rosebud side. Defensive pressure was impressive down the whole court, however the girls need to ensure they capitalise on every opportunity. Goalers were again strong against some physical competition.
A grade had a bit of mix and match with their positions showing their versatility as they had a comfortable win over Rosebud. The girls converting on their turnovers provided them with a constant lead! Our girls proved again that they are a force to be reckoned with come finals this year.
Looking forward to the week off to rest some tired bodies and to come back refreshed and motivated for Rye.