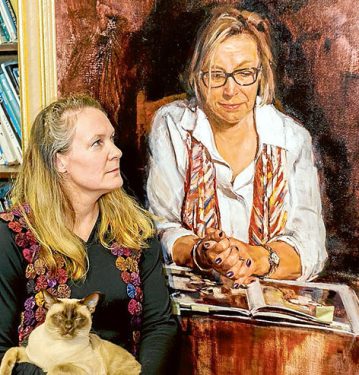 ROSEBUD artist Fiona Bilbrough doesn't always find, or need, to have a strong bond with her subjects. But Rosie Batty was an exception.
After their first contact where Bilbrough sought the anti-domestic violence campaigner's cooperation of sitting for a portrait to be entered into this year's Archibald prize, there was no doubting emotions had been stirred.
"I feel I'm actually Rosie, except my son is still alive," Bilbrough said last week. "There's a similarity in our stories."
There's now an ongoing relationship between artist and subject that stretches beyond paint on canvas.
Bilbrough has become an active campaigner for a petition calling for politicians to do all they can to prevent domestic violence which will be presented to them on 20 June, the birthday of Batty's son, Luke, murdered by his father during a cricket practice at Tyabb in February 2014. Greg Batty was shot by police at the scene and died in hospital the following day.
"I was taken aback by the depth of catharsis's I experienced while producing this particular artwork," Bilbrough says.
Chosen as Australian of the Year in 2015, Batty told the media the day after losing 11-year-old Luke: "I want to tell everybody that violence can happen to anyone, no matter how nice your house is or how intelligent you are."
In the two years since she has fought the change what she sees as systematic failures in responses to domestic violence in Australia: lack of communication, public perceptions of domestic violence, lack of funding and about police and legal proceedings that she felt disempowered her ability to protect herself and her son.
Bilbrough says she understands when she hears about women who say fears for their own safety, prevented them from reporting abuse.
Service providers continue to struggle with systemic failures in the Family Court, specifically relating to issues between parents who can no longer parent together due to domestic violence.
"Apathy and neutrality are the new enemy to victims. Victims leave violent partners only to be battered by the courts," Bilbrough says. "People in public wanting to remain neutral and unwilling to be involved contribute to long delays in resolutions for children of Family Court cases.
"The effects are directly visible through children who are denied intervention and counselling – this being disallowed until end of proceedings.
"If children are left the subject of unresolved Family Court litigation they tread a difficult and sometimes impossible path to-ing and fro-ing between parent's homes whilst litigation outcomes get repeatedly adjoined.
"Children need to be able to see the light at the end of the tunnel and feel a sense of belonging which is an integral part of building good mental health. That includes children as well as parents."
Bilbrough said children "left in limbo they lose their resilience and are more likely to become a breeding ground for long term mental health and relational issues".
These social and emotional difficulties "become permanent disabilities entrenched in their makeup. In a lot of cases the damage is irreparable. Society pays the price in the end".
Bilbrough said Batty's Never Alone campaign outlined a five-step reform program for the Family Court "that will hope to address systematic failures".
"The campaign so far has helped raise awareness, but laws and government reform sadly remain unaddressed and out of touch when dealing with the reality that parents are facing today," Bilbrough said.
However, despite her anti-domestic violence activism, Bilbrough says artists are not always known to be "publicly forward".
"We hope our art is our voice. I've always hoped my work would speak for itself and not be viewed with political content.
"But since becoming a mother and meeting Rosie Batty, things may have swung in a different direction, temporarily.
"It's the journey that counts – the end product does not hold as much value. Before I complete one piece, another one has started in my head. The chase continues."
First published in the Southern Peninsula News – 14 June 2016