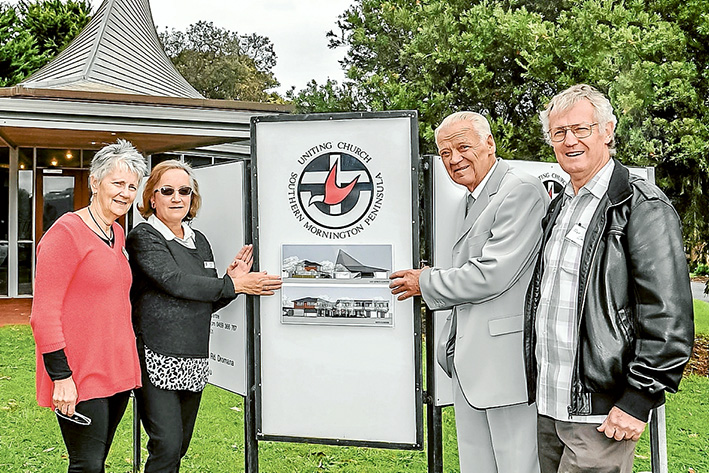 YEARS of fundraising and advocacy by ageing parents of children with disabilities and their supporters has paid off with the promise of a secure future.
The parents, who fear for the care of their adult children after they are no longer around to look after them, are overjoyed at the support they have received for a two storey, four-unit complex to be built at Rosebud by April 2018.
The $2.4 million Cloverleaf centre, earmarked for Uniting Church land in Murray Anderson Rd, will be built to house men and women – many now in their 50s and 60s – who need full-time care.
Until outside care is provided, they will continue to be looked after by their long-suffering parents, many of whom are in their 80s.
"This is a great outcome," said Marie Hell, of Crib Point, who has looked after her 50-year-old severely disabled son, Geoff, since he was a baby. "Years of hard work have paid off."
On a personal note she confided: "Ours aren't ordinary lives. We knew when Geoff was nine months old that we were in for it; we were offered the choice of putting him in an institution or taking him home with us and caring for him. We take every day as it comes."
Such a strong campaigner for the project is she that Nepean MP Martin Dixon's office nominated her for a Victorian Disability Award for which she is now a finalist.
But that honour was far from Mrs Hell's thoughts last week, with news of the project's funding being all she wanted to talk about.
"I am very excited and a little saddened by the [development] announcement, as it will assist only eight families when there are hundreds of ageing carers on the Mornington Peninsula," she said.
"I know families with parents aged 85 looking after children in their 60s. My heart goes out to them."
Mrs Hell, 70, said hers and seven other families with disabled children chipped in $30,000 each to match a $250,000 donation from the Bendigo Community Bank, Rye. The state government and the federal government provided $1 million each.
The one-off grants will pay for construction of the building, a collaborative community project between the Uniting Church, Bendigo Bank and Community Lifestyle Accommodation, as well as the parents.
"Access to appropriate and stable housing is fundamental to quality of life. It is a priority for the Labor [state] government to support those in the community who have a disability and ensure they have access to suitable housing," Housing, Disability and Ageing Minister Martin Foley said.
Mr Dixon's office described the funding as "a great bi-partisan result for Rosebud".
"We had met with both Daniel Mulino and Martin Foley's advisors last year to introduce and advocate strongly for this project," electorate officer Russell Joseph said.
"In the interim, the federal government offered $10 million nationally to assist urgent housing in the disability sector as a stop-gap measure until the full accommodation package can be determined by the NDIS."
The project will provide accommodation for people with a disability who are expected to be eligible for the National Disability Insurance Scheme in the future, but who live outside the NDIS trial sites.
Flinders MP Greg Hunt said the project would help address short-term community needs while the NDIS transition gets under way.
"For almost 2100 people with a disability in Flinders, the NDIS will bring a world of choice and control, providing access to new and innovative supports and services that are right for them," Mr Hunt said.
"The NDIS is also expected to generate significant growth in investment and jobs. It is estimated that up to 5100 jobs in disability services will be created in the Flinders electorate and surrounding areas when the scheme is fully rolled out from 2019-20."
Mrs Hell said a back-up plan would cater for parents who could not afford the $30,000 bond, with an independent committee choosing families for places at Cloverleaf.
The design of the building was a collaborative effort, she said, with parents meeting the architect and service providers to discuss design and materials. "It's been a coalition of partnerships with the land provided by the Uniting Church," she said.
"We have good networking skills, passion and commitment. We wanted it built as premium quality accommodation."
Each unit will house two residents.
"They are far more than just bricks and mortar," Mrs Hell said. "They are designed to look after the needs of residents."
Mrs Hell said being nominated for the disability award "blew me away".
"It shows that if you have the right partners you can do anything."