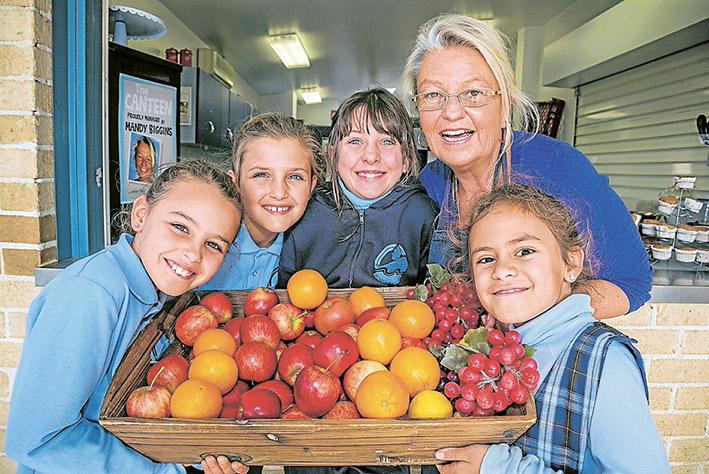 CELEBRITY chef Jamie Oliver would be proud of Kunyung Primary School's canteen menu, thanks to a team of parents and strong school support, says "open minded" manager Mandy Biggins.
"The canteen for 30 years has provided a range of snacks and lunches for the pupils and, over this time, it has seen many changes to the menu, but nothing as dramatic as our most recent project," she said.
"Gone are the pre-cooked packaged meals, snacks and juices, replaced by home cooked meals made from local produce, home baked muffins and cookies, fresh popcorn, fruity energy balls and delicious frozen yoghurt treats."
Under the supervision of Ms Biggins, parent volunteers are rostered to bake fresh food for the pupils.
Ms Biggins has managed the canteen for 10 years, constantly updating the menu under National Healthy School Canteens guidelines.
"I felt it could be improved on but was not sure how to go about it," she said.
Education sub-committee member and nutritionist and parent Alison Miles helped develop a healthy, nutritious and delicious menu. The canteen manager was initially tentative. "It seemed overwhelming to completely change the menu and produce everything on site," Ms Biggins admitted.
"We were concerned whether the pupils would react positively to a menu devoid of pre-packaged items but, with guidance and support, the transition has been a huge success and feedback from both pupils and parents has been positive," she said.
"Now I can appreciate what a great decision it was to go healthy.
"Now my day revolves around preparing delicious food from fresh produce rather than filling the oven with packaged meals and party pies."
Kunyung hopes to lead the way in having delicious and nutritious meals and snacks for pupils.
"Our vegetable patch will provide produce to the canteen, and we encourage other primary schools to re-assess their canteen menus and seriously consider what they are really feeding their pupils."
The proof is in the pudding – pardon the pun – with confirmation that the canteen is producing a profit. "This is vital as it has to be self-funding," Ms Biggins said.