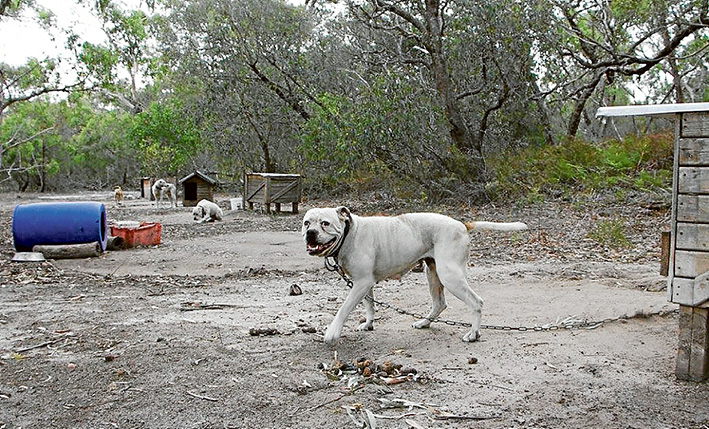 FLINDERS electorate candidate Ben Wild wants a new federal animal welfare office established to give more power to organisations such as the RSPCA.
The Animal Justice Party candidate says such organisations want more power to intervene in animal cruelty cases, but fear losing government funding if they speak out too forcefully.
"No one is standing up for people who care about animals," Mr Wild said on Monday.
He is one of six candidates standing for Flinders at the 2 July federal election. The seat is currently held by Liberal Greg Hunt with a more than 11 per cent majority.
Mr Wild says 15,000 signatures to his online petition calling on Agriculture Minister Barnaby Joyce to take action against the owner of 40 dogs at Blind Bight is an illustration of the concern people have for animal welfare.
"Local, state and federal politicians are doing nothing – I wonder if their names were Pistol or Boo if we would have seen some action by now?" Mr Wild said, referring to Mr Joyce's quick action against US actress Amber Heard for illegally bringing her two Yorkshire terriers into Australia while visiting her now estranged husband Johnny Deep in April 2015.
The Blind Bight petition at change.org calls on Mr Joyce to intervene in the case where it is alleged the dogs remain "stuck in the freezing" cold, with inadequate shelter and sub-standard provisions" at Blind Bight, a small hamlet near Tooraddin on the northern shores of Western Port.
Mr Wild said there would have been no action taken towards protecting the dogs if it were not for Casey Council "just by chance having some powers".
Charges laid by Casey Council include keeping an excess number of dogs without a permit; failing to provide sufficient housing; tethering dogs on tethers of less than three metres; using tethering as a permanent means of restraint for dogs; and, failing to register dogs.
However, some firearms charges had already been dropped and the case deferred until later this month.
He said questions remained about why there were so many dogs being kept on the property.
"It's difficult to see them all as they are chained up in bushland. If there were puppies the authorities could have seized all the dogs, but under existing laws this wasn't possible."
Mr Wild said the announcement of his candidature for Flinders had sparked contacts from many people with concerns about animal issues.
"There are a lot of dog issues out there and a lot of people are seeing me as a voice for animal welfare.
"In 2013 the Abbott government took animal welfare off the Commonwealth agenda. Instead, it left individual departments of agriculture to be primarily responsible for implementing animal welfare standards.
"The conflict of interest is clear. These departments of agriculture are charged with protecting and promoting profits for the agriculture industry while at the same time ensuring animal welfare standards are met and maintained. Revenue raising and animal welfare do not make happy bed-fellows."