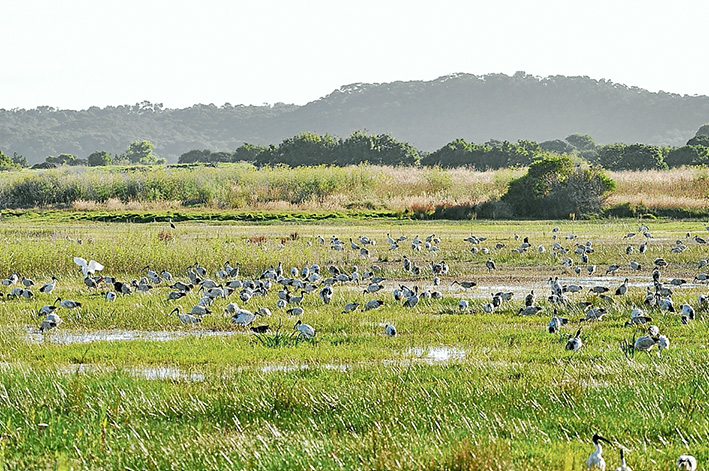 LOBBY group Save Tootgarook Swamp will lead the community's case at the Victorian Civil and Administration Tribunal this week for the refusal of a 99-house infill development in Tootgarook Swamp in one of the most important environmental cases the Mornington Peninsula has seen.
The land – almost 30 hectares, or 74 acres – is at 92 Elizabeth Av, Rosebud West, one of several privately held blocks in the swamp that were zoned residential by the old Shire of Flinders before environmental considerations became common in planning.
The application has been knocked back by Melbourne Water, which legally obliged Mornington Peninsula Shire to follow suit.
Save Tootgarook Swamp president Cameron Brown said the development would "strike at the heart of environmental and ecological values of Tootgarook Swamp".
"This intensive development will see the entire area in the wetland, which is directly adjacent to an unstable and polluted former landfill area, filled by houses. The area contains 23 threatened species, five endangered vegetation classes, and is a bushfire risk."
He said Save Tootgarook Swamp had identified serious issues with the proposal including "risks to human and environment health, groundwater modification, flawed plans for stormwater treatment, and increased potential flooding downstream in Rosebud West from reducing a portion of the current water retarding service that the swamp provides".
"The land itself is under an unenforced remediation order imposed by VCAT as part of a penalty for alleged illegally clearing and cultivating the land in 2009," he said.
"So far the owners/developers have avoided the mandated 10-year remediation of the land and the hearing will consider this issue.
"A precedent stemming from an approval when there is an unenforced remediation order will have severe implications for Victoria's native vegetation clearance laws, one which we believe will cause a large increase in illegal clearing if landowners and developers know they can escape any penalty."
The shire and Melbourne Water will be represented at VCAT during a hearing expected to take seven days.
"The reason objector groups and individual objectors need to attend is that while various authorities may object, often their grounds for objection are not as comprehensive as they could be," Mr Brown said.
He said volunteer community group members would take time off work to "participate in the difficult and complicated process of protecting the remnant biodiversity and habitat of the peninsula".
For more about Tootgarook Swamp and follow the VCAT case, see www.savetootgarookswamp.org or on Facebook.