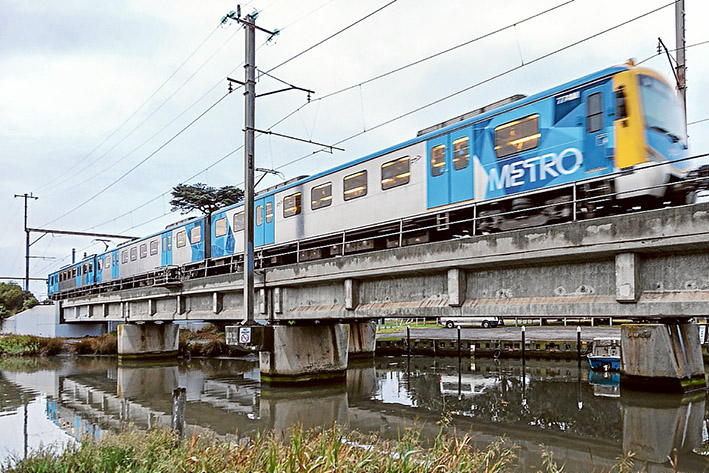 THERE will be no extended sky rail from Mordialloc to Frankston along the Frankston line.
Labor Transport Minister Jacinta Allan declared at last weekend "there has never been a plan for extended elevated rail on the Frankston line".
The state minister in the Andrews government decided to step in and end speculation about sky rail being built along the full rail line amid a doublecrossed.com.au flyer campaign, financed by the Liberal Party, in the federal seat of Isaacs urging voters to "put Labor last" and vote against federal MP Mark Dreyfus since "Labor is now planning to build Sky Rail lines four stories [sic] high near you on parts of the Frankston line".
"We will not be building a Dandenong line-style 'sky rail' on the Frankston line. Any allegations we will are false," Ms Allan said in a statement.
Mr Dreyfus slammed the Liberal Party for its "dishonest campaign" against sky rail on the Frankston line.
"It is, and always has been, a totally false representation of the state government's plans to improve safety on the Frankston line and to improve travel times for those using the roads," he said in a statement.
Mr Dreyfus noted the doublecrossed.com.au flyer and associated website are authorised by 'S. Frost', who "although it was not stated", is the state director of the Victorian Liberal Party.
Liberal state opposition spokesman for planning David Davis called the wording of the Labor statement "slippery" and said Ms Allan had not ruled out elevated rail.
It has also emerged that the Level Crossing Removal Authority (LXRA) is currently monitoring the impacts of rail noise "for improved or new passenger rail infrastructure and changes to land use near existing and planned rail corridors".
A LXRA letter dated May 2016 obtained by Simon Johnson, founder of the noskyrail.com.au group, asked residents living near the Frankston line to allow the authority to install "noise loggers" at their properties "to seek your assistance in carrying out the noise monitoring for the Level Crossing Removal Project".   
When contacted by The News LXRA project director Adam Maguire said rail noise is assessed using Victorian Passenger Rail Infrastructure Noise Policy guidelines.
"LXRA is currently conducting noise monitoring at locations near the eight level crossings that are being removed between Cheltenham and Frankston to record all surrounding noise from trains and roads," Mr Maguire said.
"The testing is being undertaken by noise specialists AECOM using portable noise loggers at approximately 45 homes and businesses for periods of up to seven days with the permission of owners and tenants.
"This information is used to evaluate the best solution for each site. We will provide further information and will seek feedback from the community later this year as we progress through the design process."
The LXRA will next month announce options for level crossing removals along the Frankston line.
Earlier this month Frankston Council decided not to follow Kingston Council's lead in formally opposing elevated rail along any part of the Frankston line.
Frankston councillors decided to defer a vote on the divisive matter until 18 July.
Decisions on whether elevated rail or road under rail is more appropriate are still to be made for crossings at Balcombe Rd (Mentone), Charman Rd (Cheltenham), Edithvale Rd (Edithvale), Eel Race Rd (Carrum), Seaford Rd (Seaford), Skye/Overton Rd (Frankston), Station St (Bonbeach), Station St (Carrum).
Road under rail works are underway at three level crossings at North Rd (Ormond), Centre Rd (Bentleigh) and McKinnon Rd (McKinnon).
The LXRA will release options for level crossings removals in July before final decisions are made at the end of the year.
LXRA project director Adam Maguire said planning and consultation is continuing for the eight remaining level crossing removals along the Frankston line.
"This is quite unlike the Caulfield to Dandenong project where the Level Crossing Authority is removing all nine crossings between these two suburbs."