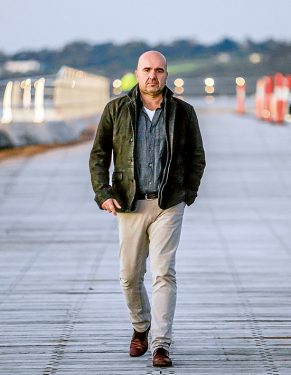 THE frustrating thing about tragedies is that many could be averted or dangers lessened with a little forethought.
The deaths of two scuba divers at Mornington, Friday 10 June, are a case in point ("Two scuba divers die as waves batter pier", The News 14/6/16).
They may not have died if vital rescue equipment had been close at hand. 
That's the view of the man closest to the drama, restaurateur Robert De Santis, who ran from The Rocks restaurant near the base of the pier after a teenager raised the alarm, and climbed down a ladder into the rough seas.
While his efforts were in vain, Mr De Santis has since condemned the shortage of life saving equipment that could have helped him rescue diving instructor Leonie Hanson, 40, who taught at Harbour Dive Australia, Mornington, and a male student, 39, whose name has not been released, of Langwarrin.
The pair drowned in rough and windy conditions after the student apparently got into trouble on the seaward side of the stone wall about noon. Ms Hanson desperately tried to push him to the safety of a steel ladder in the huge swells – ultimately at the expense of her own life.
A clearly still-affected Mr De Santis last week reflected on the tragedy and discussed measures that could be put in place to prevent a repeat. "There was nothing at hand that we could use to help them," he said.
"We literally had to steal a 1960s fibreglass life ring from the mussel man's boat on the other side of the pier, and that took valuable time. The young fellow who was helping me didn't have a mobile phone and had to run to the yacht club to get assistance, and that took more time."
The delays may have cost 10-15 valuable minutes while Ms Hanson was fighting for her own life and that of her exhausted student and while a frantic Mr De Santis was wondering how he and his young helpers could save both of them.
"There was not one life buoy, no rope, no emergency phone and no siren to sound that would have alerted others to come and help us," he said.
"I had to go down the ladder with nothing. If there had been a rope that I could have clipped on him and focused on her that could have helped."
"And what would they have cost? $5000-$10,000? But so what? They [Parks Victoria] spent $15 million on replacing the pier and installing nice paving and fancy lights and bollards – but no lifesaving equipment."
Mr De Santis said concerns that the gear would be vandalised was irrelevant if it helped save a life. "I am sure other piers have such equipment. It's common sense," he said.
"And what vandal is going to break the glass and press a siren's buzzer if it's going to bring people running?
"What relevance is cost if it helps save two lives."
The strong winds, cold, rough seas, the divers' decision to venture onto the seaward side of the pier, and their panic and exhaustion, are all variables that played a part in the divers' deaths. They will be considered in the upcoming coronial inquiry.
The provision of suitable rescue equipment is something that can be determined now and possibly forestall another tragedy.
Mornington Yacht Club CEO Rod Austin, who piloted an inflatable boat to the scene, said the three metre fetch of swell, and the 30 minutes it took from being alerted to his arrival at the ladder, meant a rescue was improbable.
Ms Hanson had already disappeared.
Mornington Police Inspector Karen Nyholm said she expected the state coroner to make recommendations on the provision of safety equipment, such as a defibrillator. "Everything is worth thinking about," she said.
Parks Victoria media manager Lachlan Quick said he preferred not to comment on the provision of rescue equipment until the results of the coronal inquiry were known.
"It was an obviously tragic situation and we will cooperate with the inquiry and hope to prevent these sad events happening again," he said.
Harbour Dive Australia would not comment on Ms Hanson's death, but contributors to its Facebook site said: "Sending lots of love and many happy memories for all the staff at Harbour Dive Australia at this extremely sad time. She will be dearly missed for all the right reasons," Siobhan Redfern.
"Sending love and condolences to both families, friends and all at Harbour Dive. Such a tragedy. A fantastic dive instructor and a beautiful person. May she rest in peace," Aoife Nic Fheorais.