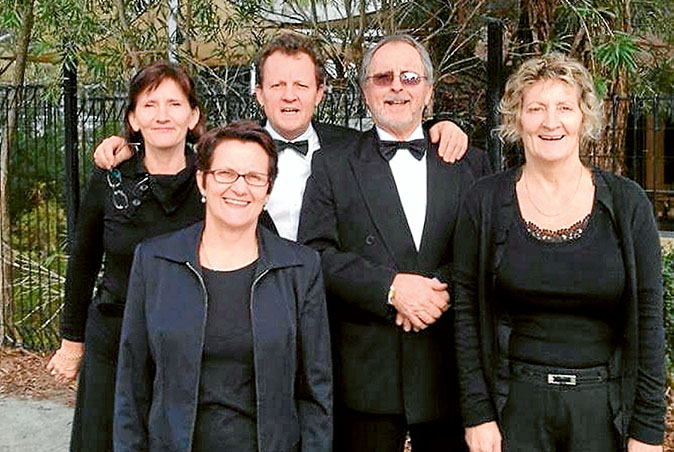 THE sights and sounds of The Big Apple are a tantalising prospect for singers from Mornington Peninsula Chorale who will perform at Carnegie Hall in January.
The 50 choristers will join others from around the world at the Distinguished Concerts Singers International, with Sir Karl Jenkins as composer-in-residence, and artistic director Jonathan Griffith as conductor of the performance.
The invitation to sing came about after the chorale performed Sir Karl's Armed Man at Frankston Arts Centre last year for the Anzac Day centenary celebrations.
Senior chorister Judi McKee wrote to Sir Karl who invited the chorale to audition for a performance. They sent an audio-visual tape over – he loved it – and New York is now in the offing.
Especially thrilled about the trip are five members of the Wearne family: Marcelle, Larry, Brenda, Heather, and Peter, who joined the chorale in 2012 and who all live on the Mornington Peninsula.
"It was a tremendous surprise; a fabulous opportunity," tenor Larry said.
"Within our family, singing and music have always featured strongly, and our home was always filled with music of some sort or another – from classical music to contemporary and everything in between," Marcelle Kirby (nee Wearne) said.
"Our sister Heather would spend hours playing Beethoven on her piano and, when she was too ill from chronic asthma, listening from her bed."
Brother Larry added: "She couldn't run around outside with us so music became her thing."
Peter was given a Gilbert & Sullivan record for his 10th birthday. "Poor Pete," Marcelle said. "What a disappointment that must have been for him, but mum loved their works and encouraged and fostered that in us."
She recalled, years ago, the family sitting around the piano with a tape recorder singing for their brother, Robin, away fighting in Vietnam, and "helping him feel close to us and remind him of home".
"Growing up in a large family there were lots of household chores we all had to share and a great way to get through them was to have music accompanying a sing along." Marcelle said. "We sang to everything: musicals such as Oliver and Sound of Music, choral works, The Beatles, Joan Baez, The Eagles, Elton John … the record player and radio were rarely quiet."
Cheekily calling themselves the Wearne Family Singers, Marcelle admits: "We are really just part of the choir where we gain so many benefits from belonging. We love to sing with our fellow choristers, especially the oratorios and the proms."
Larry added: "Being part of the choir promotes a feeling of wellbeing, pride and connectedness. We love it."
Members of the Wearne family will sing at the Mornington Peninsula Chorale's next performance of Frankston Music Society's proms concert Heroes & Heroines, 2.30pm, Sunday 21 August, at the Frankston Arts Centre. Tickets are available from the centre.
Tax deductible donations to assist with the Mornington Peninsula chorale's New York trip – which is expected to cost $4000 a head – can be made through the Australian Cultural Fund at australianculturalfund.org.au