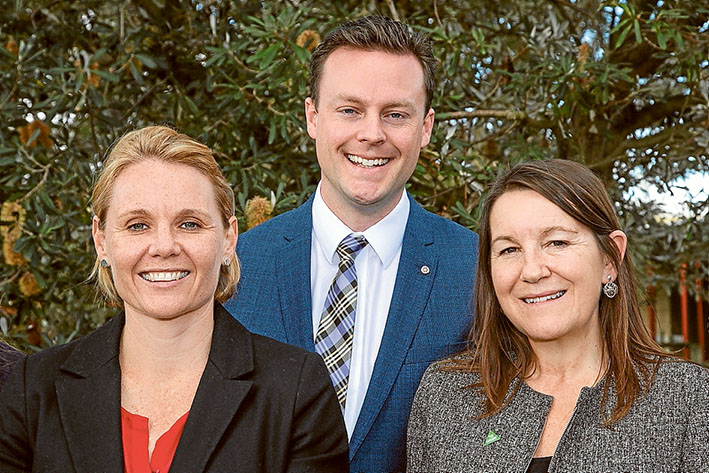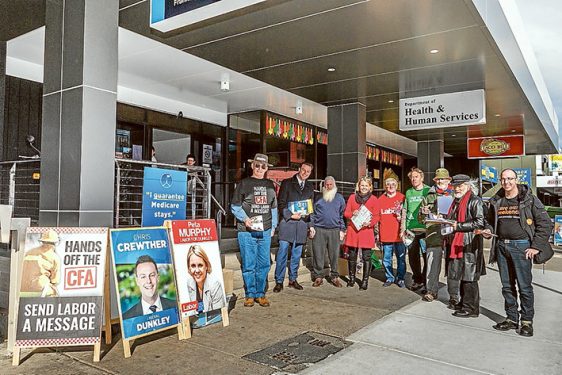 WHOEVER loses, Dunkley wins. That's the state of play for the electorate as the federal election campaign heads into its final week before polling day on 2 July.
The party that wins government on 2 July will be obliged to see through its extensive funding promises for Dunkley even if its candidate does not win the seat.
Both major parties have made pledges worth tens of millions of dollars to sporting clubs, schools and community groups in the marginal seat held by the Liberal Party by 5.5 per cent at the 2013 election.
Former small business minister Bruce Billson's retirement from politics has seen newcomer Chris Crewther face a fight to see off a challenge from Labor hopeful Peta Murphy to hold the seat for the Liberals.
A Newspoll conducted by Galaxy Research last week suggests Mr Crewther holds a 53-47 per cent advantage after preferences at this stage but the seat remains in the balance heading into Saturday.
Volunteer firefighters' anger at the Labor state government's sacking of the Country Fire Authority board to settle a pay and conditions dispute with the United Firefighters Union – and its attendant high-profile media coverage in daily newspapers and TV news bulletins – seems to have impacted on Labor support in Dunkley in the past week.
Ms Murphy says Labor will invest heavily in local infrastructure, education and health. Faster internet speeds thanks to fibre-to-the-premises national broadband network connections, a pledge to fund the final two years of the Gonski plan, worth tens of millions of dollars to Dunkley schools, and a commitment to build a new mental health unit at Frankston Hospital will be high on the agenda for an incoming Labor government.
"My vision for Dunkley is as a 'hub of opportunity' – and I have the infrastructure, education and health policies to back it up," she said.
"My positive policies will see $200 million in new investment leveraged and mobilised, and create thousands of study and job opportunities.
"For the past three years, the Liberals have refused to contribute to the revitalisation of Frankston and our region. With Bruce Bilson retiring after 20 years, this is our chance to change that with positive new policies that build and share opportunity.
I want to be the first ever female representative of an electorate named after a pioneering woman. Like Louisa Dunkley, I will encourage girls and women to aim high, and I'll also fight for fair pay by opposing the Liberal candidate's plan to abolish all weekend penalty rates.
"I will fully fund and deliver our region's top sports priorities such as the Frankston Basketball Stadium expansion, regional netball pathways and the Karingal Football Netball Club Pavilion."
Mr Crewther said he "will carry on from the hard work of Bruce Billson" if elected.
"Locally I am committed to helping small business, tackling the scourge of ice in our community, creating opportunities for our young people and improving local transport infrastructure," he said.
"The Turnbull government and I are also committed to supporting and protecting the important work of over 60,000 CFA volunteers in Dunkley and Victoria-wide.
"As a local small business owner living in Frankston with my wife Grace and baby daughter Yasmin, my first priority is to see jobs created for Dunkley families.
"I ask for your support to continue to make Dunkley a great place to live, work and raise a family, with the best of the country, the city and the coast right on our doorstep."
Nine other candidates will be listed on the ballot paper in Dunkley.
Jeanette Swain (Greens), Tim Wilms (Liberal Democrats), Ruth Stanfield (Derryn Hinch's Justice Party), Michael Rathbone (Family First Party), Sally Baillieu (The Arts Party), Jeff Reaney (Australian Christians), Lin Tregenza (Rise Up Australia Party), Jack Tyson (Animal Justice Party) and independent Joseph Toscano could see their preferences, where allocated, get either Mr Crewther or Ms Murphy over the line in Dunkley.